Cache Valley's rivers have been victim to restoration practices for years that are now considered unsavory, and it was the recent flood mitigation project along the Blacksmith Fork and Logan rivers that has interest groups coming together and hoping to implement better practices for the future.
Logan has taken a lot of criticism in recent months over methods used for channel and bank stabilization as well as cutting down crack willows, a species native to Europe and Asia that has been in the valley for years. One area where so many trees were cut down is the Logan River Trail by the Logan River Golf Course and Rendezvous Park, at about 1500 South and U.S. Highway 89.
The trail looks terrible right now, said Mike Wolfe, a Bridgerland Audubon Society board member and former Utah State University ecology professor. Trees have been cut down, branches hauled away, and the river turbidity is high due to bank stabilization work happening up river.
"I think what we (the Audubon Society) would like to do is see what we can do to help revegetate this, so that maybe the scars will go away," Wolfe said on a March 29 Audubon field trip to Rendezvous Park where a Logan representative answered questions regarding the work.
Cache County teamed up with several cities, including Logan, to perform flood mitigation and river cleanup through the Blacksmith Fork and Logan rivers using permits from the U.S. Army Corps of Engineers and money from the Natural Resource Conservation Service's Emergency Watershed Program, explained Lance Houser, Logan's assistant city engineer.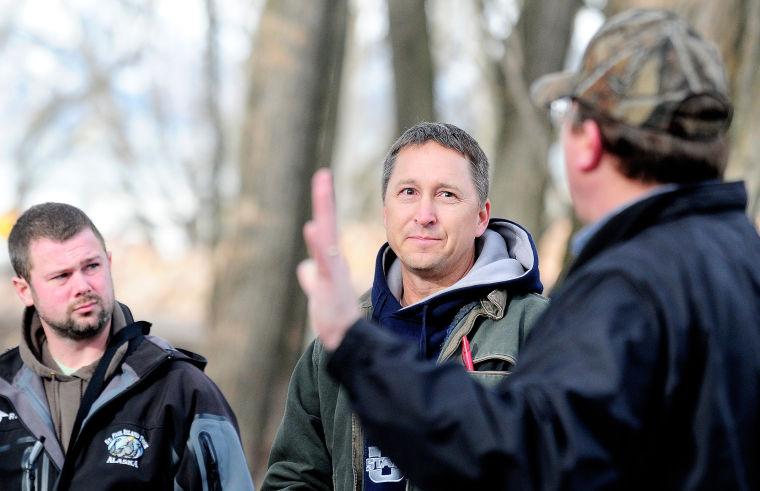 However, instead of a typical river restoration project, which can take decades, the county and cities were given a 220-day window because the money was primarily for flood mitigation to protect private property, Houser said. Logan received an additional 220-day window because much of that time was taken up preparing environmental documents, but it is still not long enough for everything that needs to be done, he said.
"That program sounded great," he said to a group of about 40 people on the field trip. "It brought money for mitigation and river restoration, but it has a very narrow definition of what it allows us to do."
Still, Wolfe and others expressed concerns about the wetland and nesting habitat for birds with all the work that has been done. The environmental documents put together by the Natural Resource Conservation Service state there is little danger to endangered species in the area, and lists the Bonneville Cutthroat Trout as not being in that part of the Logan River. However, since it is still early in the season, most describe it as a "wait and see."
There's also the problem of the snakes.
Andrew Durso, a USU biology graduate student, is participating in a garter snake study on that portion of the Logan River. Since the flood mitigation was conducted in the winter during the snakes' hibernating season, he is worried many of the snakes did not survive the process.
"Studies have shown that when you destroy a hibernation site, most of the animals — most of the reptiles — that are using that site just die," Durso said.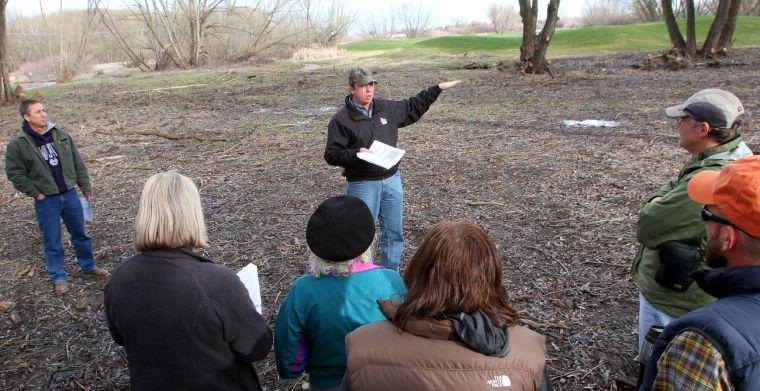 He acknowledges that not everyone likes snakes, but they are important to the food chain.
"They're predators," he said. "They have a lot of influence on the ecology of the area. They're eating tons of fish and amphibians, helping keep those populations where they ought to be instead of growing too large, and they're prey for a lot of things, too."
One of the reasons the study is being conducted in the Rendezvous Park area is because there was a robust population of garter snakes there, something that is rare to find, Durso said. Valley garter snakes also need to hibernate in an area underground that does not go below freezing, such as in tree roots or dead trees.
"It'll be interesting to see what happens this spring," Durso said. "We'll continue the work out here, because we have other projects on garter snakes as well. There's probably some that are probably going to come back to this area that hibernated elsewhere that wasn't disturbed, perhaps."
Houser said the city is working with the Utah Division of Wildlife Resources, Trout Unlimited and USU professors to put a long-term mitigation plan in place. He mentioned he would also like to see groups like the Bridgerland Audubon Society offering assistance. The city has put a "Band-Aid" on the problem of flooding for now, but it won't fix everything, he added.
"We finally have all the work that's been done, and as bad as it's been, it's becoming a motivating factor now that the city's able to say, 'OK, we're committing the resources and finances,'" Houser said. "Now, we have groups that are stepping up and saying 'Wow, you guys really were in a problem. We don't necessarily like what you've done, but now let's help become part of the solution.'"
The long-term plan could include gradually buying out houses along the river, opening up the flood plain in areas and continuing revegetation already happening, he said. If the city continues to cut down the crack willows, which break easily in the wind, clog channels and push out undergrowth, it will do so gradually, he added. The Emergency Watershed Program project ends in August and is in the revegetation stage right now, with native trees and other vegetation being planted.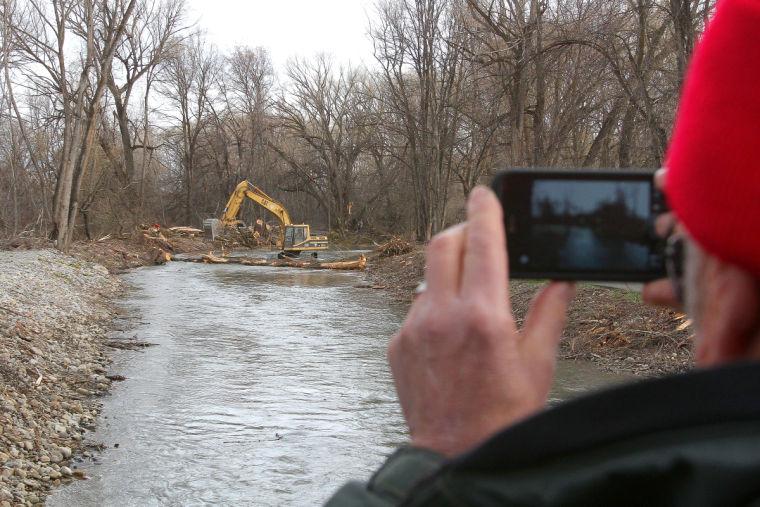 Darren Olsen, a principal hydrologist with Bio-West who attended the Audubon field trip, said his company would like to be part of the solution. Bio-West assists with river restoration and has a Logan office. His company is working on restoring the lower Provo River delta where it feeds into Utah Lake and has done other work on places like the lower Virgin River, Hamilton Creek and Nevada Springs.
"My hope would be we could sort of live with the river," Olsen said. "The river needs room. Rivers need a few things, and confining it to a narrow corridor just based on where it's wet right now during floods that happen all the time — to say we can't handle a 10-15 year flood creates all these problems."
Developing along the river and in flood plains has created problems because there was not proper planning, Olsen said, adding he feels connected to the project particularly because he lives here.
"The idea of having trails along the river, and open areas, I like. But, to have the whole thing developed with houses along it doesn't seem like a good use," he said. "It seems like it's creating a problem."
---