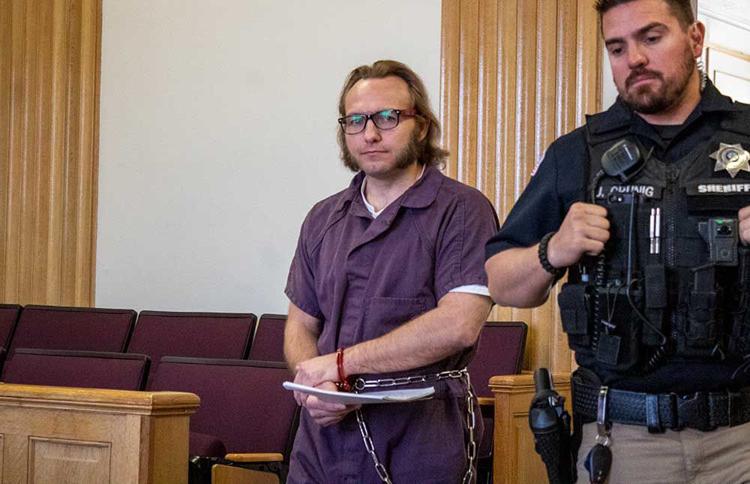 Grim details in the case of a man who killed his friend emerged throughout the sentencing of Marlin McQueen on Oct. 31. McQueen was convicted of second degree murder in the Jan. 26, 2019 death of Willin E. Lovin, after pleading guilty to receive a lesser charge from the original first degree charge.
He was sentenced to life in the Idaho State prison with a 30-year fixed sentence.In the afternoon of January 26, 2019, a call that was originally reported as a possible suicide was called into Franklin County dispatch. Upon arrival law enforcement determined the call was a homicide and began their investigation.After conducting interviews with witnesses and friends, the department identified McQueen as the suspect.
He had attended a party the night before the murder, hosted by the victim, that had ended in the early hours of the morning of the Jan. 26. When McQueen was first contacted and interviewed, he denied any knowledge of Lovin's condition.On Jan. 29, McQueen was brought in for a polygraph test, which he failed, and the interview turned into an interrogation.
At its conclusion, McQueen confessed to the murder, stating that Lovin asked McQueen to kill him because Lovin had confessed to a crime he committed against two young girls in Utah. McQueen was incarcerated at that time on a $1 million bond.Law enforcement reached out to the Utah location's police department where the crime was said to have taken place. It was concluded that no such crime had taken place fitting the description McQueen said Lovin had confessed.
McQueen stated in the pre-sentencing investigation that he left after what Lovin had told him and went out to his truck. McQueen said he saw his buck knife and "couldn't let Lovin live anymore." McQeen also stated he felt "Preston was a better place without that man in it... Lovin was a good person who had a disease and asked me to kill him."
During the sentencing, Captain Karen Hatch spoke as a witness for the prosecution and described entering a scene with blood smears on the wall, floor, and doors of the victim's bedroom and bathroom, where the victim was found. Hatch said the scene was the worst she had ever encountered.
Prosecuting Attorney, Vic Pearson stated the facts and circumstances far out weighed the minimum sentence in this case. Lovin sustained over 25 stab wounds all over his body, before making his way into the bathroom where he died.
From her impact statement, Lovin's mother noted that Lovin was not only a son, but a brother, uncle and friend to all.
"Once you were in his circle, you were his family," she said.
She talked about his giving spirit and generosity to help others, putting the needs of those around him before his own, and his hugs that would be missed by everyone who was ever on the receiving end.
She recalled a time when Lovin told her about a conversation he had with McQueen regarding his concerns over the welfare of McQueen's son. She worries that someone who didn't know her son would believe McQueen's "far-fetched story."
Her family members now find themselves unable to trust anyone and are scared to sleep, worried someone could come into their house and take their lives while they are in a person's most vulnerable state. Not being able to see Lovin, they wonder about his future every single day. The family has been given a life sentence without him, she said.
Before his sentence was pronounced, McQueen stated remorse for his actions and the pain he caused the family."I know my actions have affected everyone in this room and I'm sorry. At the end of the day someone has to be a monster and I guess it has to be me," said McQueen. "When it comes down to what Willie had told me that I believed to be true. It struck me in a profound way. I know the actions I've done is not the correct result, but are the result of what Willie asked me to do. I know now I should have left and went to the police after what he told me and not went back into the house. I am remorseful and I ask for forgiveness that I may never be worthy of. I'm sorry and I know that isn't good enough."Judge Mitchell Brown remarked that through the amount of victim impact statements, he was able to get good look into the life of Lovin, saying he was moved and impacted by them. From one of them, he noted that in this case, the idea that "true justice is impossible," was fact.Regarding McQueen's motive, Judge Brown was unconvinced. "The motivation given was outlandish, incomprehensible, and unbelievable. Even if the statement was factual, the action was unjustified and inexcusable conduct," he said.Judge Brown stated that McQueen had up until this day shown a complete lack of emotion, remorse and accountability for a crime that appears to be a violent, unjustifiable, senseless crime.