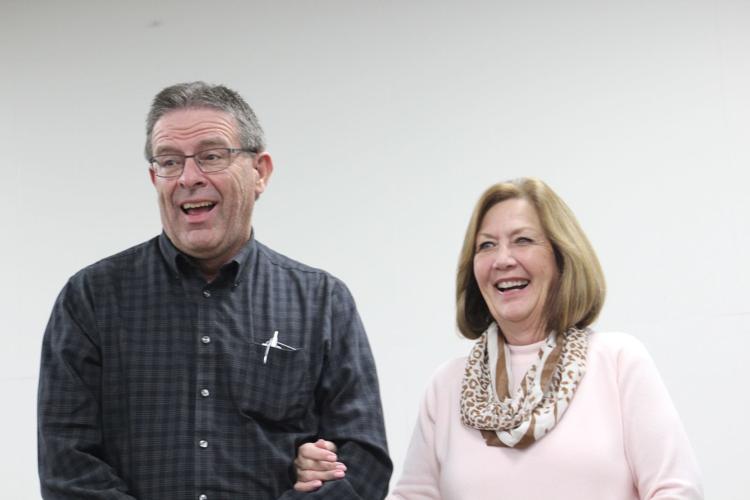 Several nominations were submitted for the 2019 J. Walter Ross and Wayne D. Bell Community Service award this year, more than last year, and the majority of them were for Thayne and Kathy Winward.
For decades this couple has been found in the background, making things work.
Kathy's voice has been lent to the Rotary Choir, and she has sponsored girls as they participated in the Junior Miss program. She volunteers at the hospital and has hosted foreign exchange students. That doesn't take into count the years she has spent in the young women's program of The Church of Jesus Christ of Latter-day Saints, on both the ward and stake levels.
She and Thayne serve in the Logan Utah Temple, and of course, she has supported Thayne, as he has gone about doing good.
Thayne "always has Preston's best interest in mind," said one nomination, and "he never wants or receives any credit," said another.
"That may be the most remarkable thing about him," said Richard Westerberg.
"What may be his single most benefit to the Preston community" ... is his one-on-one interaction with the youth of our city for the last 50 years, as Thane has always served in the Boy Scout program and in various other church callings supporting our youth.
"Countless men have shared with me how Thane influenced them for the good while they were in their youth. He has taken thousands of hours away from his home in service to helping build the character of our children," stated a nomination by said Ron Smellie.
"He has set a great example to me and many others as we have witnessed him give freely of his time and talents to the benefit of individuals and our community as a whole."
Thane has been a member of rodeo committee for decades, building it into the award winning event it is. He has managed the books, the ticket-taking and pushed the 85-year-old event into the digital age by making tickets available online. He has spent hours and hours in the arena, planning the event and now helping to raise funds for the huge task of building new bleachers, said co-volunteer Kris Beckstead.
"He worked very hard to find a way to put the golf course on a good financial footing as it is today. The progress you have seen for Franklin County Medical Center is breathtaking — a real game-changer. Much of the credit for that progress is owing to the leadership and vision of Thane as a board member and chairman," noted Westerberg.
"Thane has this farm boy 'let's get 'er done' attitude that has greatly benefited our community. While he hasn't served in elected office, his sound council has benefited many an elected official," said Westerberg.
He was also secretary for the Preston Riverdale Mink Creek Irrigation Company before it merged into the Consolidated Irrigation Company. "He's very interested in the community and knowledgeable. He's really smart and capable. So he's done a lot of good, at least for us, managing our finances," said Lyle Porter of the Consolidated Irrigation Company. "He's been invaluable to us."
Thane's service extends to individuals as well. "I know of instances where he has offered himself and his horses to retrieve elk for other hunters. He cares about people and gives more than lip service," said Richard Swainston.
Despite all they've done for their community, their six children and spouses and 28 grandchildren are their greatest accomplishment.
"I believe that Mom and Dad's success has come because of their constant service to others. Their genuine desire to help others has always been more important than individual accolade or personal satisfaction. Their small acts of kindness and service far outweigh their service in the public eye," said their son, Chad.
"Mom and Dad strived each day through instruction and example to ensure we had good sense, were diligent in school, knew how to work, and learned to treat all with kindness and respect. Priorities and values were clearly taught and became a guiding compass to each of us.
"Mom and Dad have faced both the common struggles of life as well as very specific struggles unique to them. They have done so with faith and optimism that everything would turn out all right. Their faith provided all of us kids a stability and confidence that gave us a great advantage in life.
"They expected their children to put differences aside and work with people and I think they are probably the best examples I have ever seen of working with others through their differences.
"Mom is an excellent listener. She is an example of a solid friend and she knows how to take care of people. If you had to rely on someone in a crisis moment in your life, I can think of nobody better than Mom.
"Mom and Dad really don't put much stock in glamour or popularity. They could really be described as the salt of the earth. They relied on old fashioned principles in their lives, principles like honesty, integrity, hard work, diligence, responsibility, education, self-improvement, thrift, prudence, service, civic duty, and being a good neighbor.
"They always tried to do the right thing, and never made a big show out of doing it, but have really always done it humbly, never really expecting or demanding any sort of recognition for it. They really believe that doing what is right is it's own reward," he said.