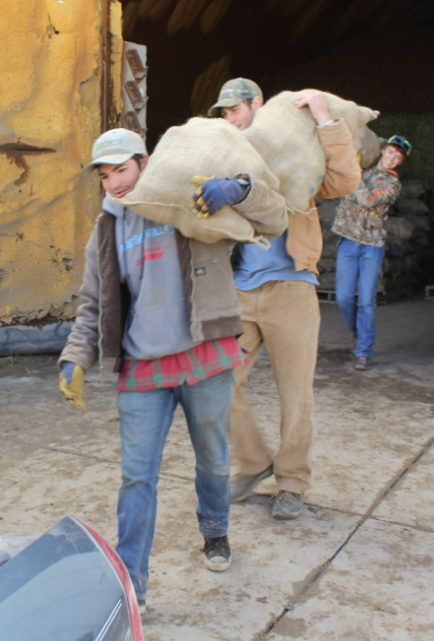 When Wes Beutler heard that the weather was forecasted to drop below 20 degrees last week, he started harvesting his potato crop 24/7, as fast as he and his crew could.
Potatoes can handle some freezing temperatures, but not below 20 degrees, he said. A cold front brought rain and snow to Franklin County and nighttime temperatures as low as 14 degrees. Beutler grows potatoes on 640 acres in the Dayton area. Before the storm, he had about 50 percent harvested.
The potato crop, like many other crops in the area, were delayed last spring due to the rainy conditions. Then the last weekend in September, 3.6 inches of rain fell on his fields, preventing any harvesting until the ground had dried enough to put equipment on it.
"We were behind from the get-go," he said.
Despite the freeze, Beutler said he only lost those potato exposed to the air, which was about 3% of his crop.
"We're back to harvesting," he said.
Across southeast Idaho, other harvesters were scrambling as well. In the Mud Lake area, potatoes growers lit bales of straw in their fields on fire to stave off the killing frost.
There's stress in the air, but "farmers don't panic too much," said Lance Ellis, extension agent from Fremont County. "They are working very, very hard to try and get as much done as they possibly can. That's all you can do. Panicking is not going to solve anything. A lot of them are hoping they can either get them dug (or) that this winter storm will come through (and won't) damage the potatoes too badly. It would be best if they all could get the potatoes dug and in the cellars."
John Hogge, area cereals educator for the University of Idaho Extension, said that should some potatoes be lost this harvest season, the markets will remain stable.
"It would take a natural disaster to cause an economic depression for any crop," Hogge said. "We've had good yields on the crops this year."