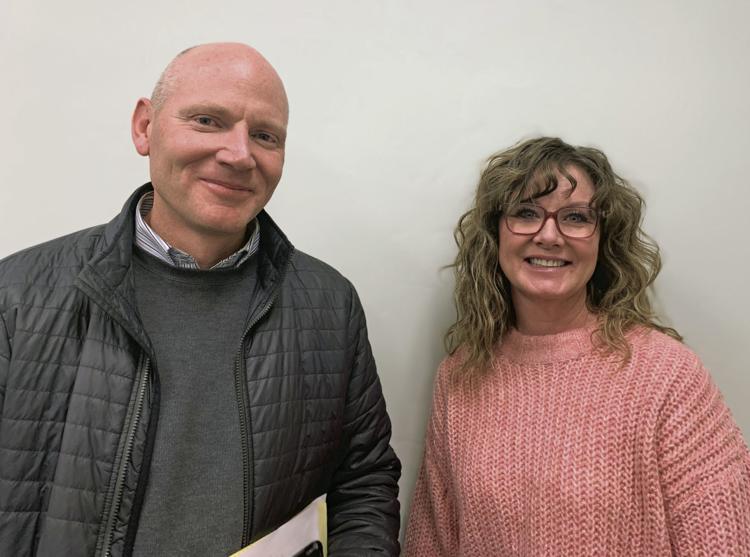 Darren Cole and Kayla Roberts will join the board of trustees for the Preston School District in January. They ran unopposed for the positions of Fred Titensor and Brandon Roberts, both of whom did not seek re-election.
Titensor served on the board for 12 years and Brandon Roberts four. At the end of the December meeting, Titensor expressed his admiration for the current board's ability to work together and listen to others and told them they had "a champion for the school in this community for life," he said.
He complimented each current trustee, naming the strengths they bring to the board.
Regarding Brook Palmer he said he didn't know when he had ever worked with a board member who would come more prepared to a board meeting. Of Jody Shumway he said his "financial oversight has been exceptional," and noted that although they disagreed on some issues, they were able to do so without grudges.
Titensor noted Joy Christensen's ability as chair of the board to keep the peace in tense board meetings and Brandon Roberts' willingness to challenge the way things were being done and "ask the right questions."
He then complimented the district's staff. "You have got people in this district that are spending their own money (to enhance the educational experience of their students); that are practically being parents. Our staff is amazing. I have appreciated working with them."
He complimented the disrict personnel: Superintendent Marc Gee, manager Brian Mendenhall and secretary Lori Heusser. "You have held it tougher and the super wasn't always here," he said.
Lastly, he complimented the district's patrons.
"We've got pretty darn good patrons, too. They've backed us in every levy. There are just good people in his own."
He noted an experience several years ago when the issue of students not paying for lunches in Utah came to the public's attention.
"We had a man come in and ask who needed help and paid for all of them (in the Preston School District)," he said.
Brandon Roberts was not available at the last meeting of his term.
Darren Cole will fill Titensor's position. He decided to run as a trustee for two reasons: his own positive experience as a student in the district and his own children. He'll have a child in each the district's schools next year.
"I want to have a feel for what's going on with their education, because its something that's going to benefit them for the rest of their lives," he said.
The father of five works at Cache Valley Bank in Logan, and graduated from Preston High School in 1996.
Kayla Roberts, who graduated from West Side High School in 1989, has sent her own five children through the Preston School District already. She and her husband, David Roberts, run a dairy in Fairview. She is also an advisor to the board of the Farm Service Agency, which represents an underserved portion of the community.
Kayla is pleased with the educational opportunities her children have received in the Preston School District. She is open to changes that will make the education system better. She decided to run for office because she feels it is important to be involved and because she believes that "just because something is good at one point, doesn't mean that it will always be good. There are changes that come along or are more progressive that can be looked at," she said.
"There are really good people here and a good value system here that makes our schools great, but you can't always rely on that for good education. Like anything else you have to look outside of the box to be progressive," she said. She was pleased to hear of the district's efforts to implement a program called LEAP which is designed to help the Latino population in the district. (See related story on page 2.)