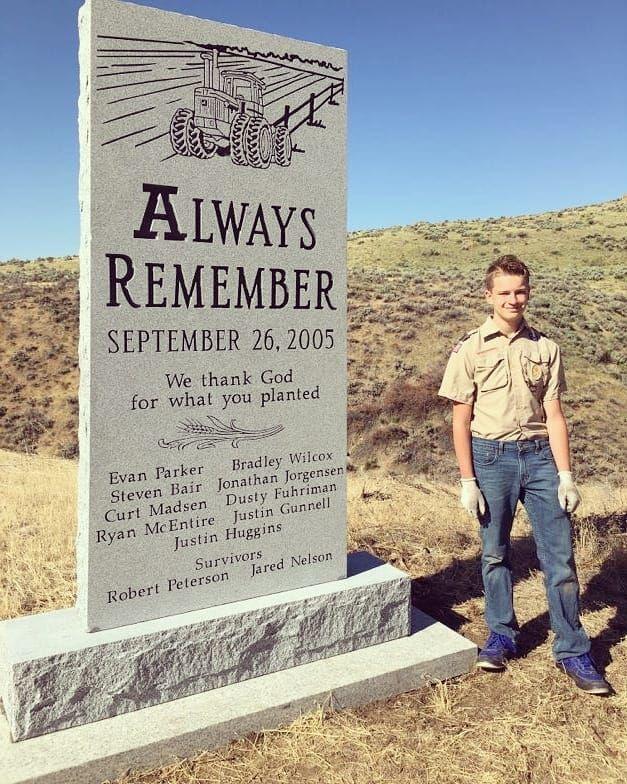 Rusten Thornley was too young to remember the freeway accident a few miles outside of Tremonton that took nine lives almost 15 years ago, but he's well aware of it.
His mother, Katie Thornley, lost a relative and close friend on Sept. 26, 2005, when a van carrying 10 Utah State University students blew a tire on the way back from an agricultural field trip and rolled at high speed.
Eight of the students, along with the instructor who was driving, lost their lives that day.
Not long after the crash, a memorial banner displaying the words 'Always Remember' appeared at the site. In 2008, USU installed a stone-and-metal sculpture on the Logan campus as a tribute to the victims: Steven Bair, 22; Dusty Fuhriman, 22; Justin Gunnell, 24; Justin Huggins, 22; Jonathan Jorgensen, 22; Curtis Madsen, 23; Ryan McEntire, 22; Bradley Wilcox, 26; and instructor Evan Parker, 45.
Unlike the campus memorial, however, the banner at the crash site was not built to last and eventually succumbed to Mother Nature. Before it disappeared several years ago, whenever the Thornley family headed out on I-84 to camp or hunt on family property in the northwest corner of Box Elder County, they would point out the sign near mile marker 34 and reflect on the lives cut short, including Huggins, who was Katie's cousin.
"We are just two weeks apart. We grew up together," Katie said. "The day they buried him he had been home two months from his mission."
A few years ago, Katie's husband and Rusten's father, Russell, suggested that something more permanent should be in place at the site. Rusten remembered the idea, and when it came time for the avid scouter to get going on his Eagle Scout project, the task before him was clear.
After a year of planning, fundraising and hard work, Rusten was there on a sunny day last month to help guide an 8-foot-tall granite marker into place. The monument is inscribed with the names of the crash victims and a lyric from a tribute song written around the time the campus memorial was installed: "We Thank God for What You Planted." It also pays homage to the banner that stood at the site for several years, with the words "Always Remember" carved across the top.
Rusten said the direction and details of the project were unclear at first. He started out with a plan to erect a metal road sign at a cost of "a couple hundred bucks," but began to think bigger after talking with Scoutmaster Reed Summers, who suggested a community fundraising effort.
"He said there were a lot of people in the community who would want to help pay for it," Katie said.
Last year, on the 14th anniversary of the accident, Katie wrote a Facebook post explaining the project and inviting the local community to get involved. What came next was an outpouring of generosity far beyond what the Thornleys had imagined. Within two days they had raised $2,300, and donations were still rushing in.
"It just blew up," Rusten said. "It was really cool to see how everybody was really happy about it."
Two of the victims, Huggins and Fuhriman, were from the Tremonton area and graduated from Bear River High. The fact that more than 200 people chipped in to the cause reaffirmed not only a community-wide sense of loss that still reverberates today, but also a lingering desire to keep the victims' memories alive.
"One of the neatest things was seeing how the community all in some way was tied to this tragic accident," Katie said. "They either knew someone in the accident or passed it and stopped, or worked the scene as an officer or first responder/ambulance crew."
As the donation total approached $5,000, local farmer and businessman Eric Webb caught wind of the effort and offered to match the donation total. Just like that, the budget for Rusten's project had grown to $10,000.
One night, Lynn Martineau, a fellow LDS ward member and scout leader, was visiting with Rusten to discuss his project. Martineau mentioned that his wife Michelle's family had a monument business in Logan, Brown Monument.
"We checked them out to see what they could do, met with them, and decided they would be a really good option," Rusten said.
Rusten also met with businessman Jay Stocking, who helped him design something that would stand the test of time. They shared their plans with the people at Brown Monument, and soon the dream had become a reality, permanently etched in granite.
Robbie Petersen, one of the two accident survivors, was touched by the project in a unique way.
Petersen, a Bear River Valley native, went on to receive his degree from USU in 2011 and was recognized at the graduation ceremony by Stan Albrecht, the president of the university at the time.
After graduation, Petersen moved around through a few jobs before returning to Tremonton, where he took over as manager at Western Seeds in 2019.
"It's a good tribute," he said of the monument. "It's a lot nicer than I thought it would be."
Petersen said he thinks about that fateful day "all the time," but has learned to use the experience in positive ways.
"It certainly gave me a better appreciation for life, how precious it is and how quickly it can change," he said. "I've learned that you have to take the moments you have right now."
On July 7, a truck from Brown Monument arrived at the site and lowered the memorial into place, completing an effort that on its surface had taken most of the previous year, but had been in the works in the minds of the Thornleys and many others for much longer.
While the young men and their instructor who died that day can't be brought back, Katie Thornley said it's comforting to finally have a permanent reminder of them in place.
"When you lose someone you love, you get scared that people will forget them," she said. "These boys, they're not forgotten."