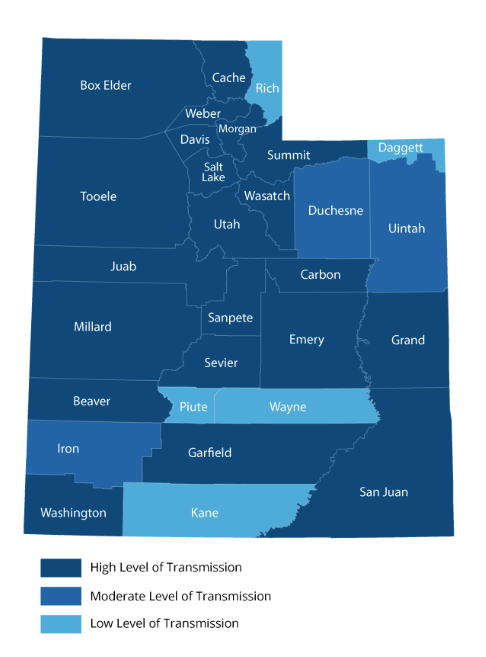 Six weeks after Gov. Gary Herbert moved to ease COVID-19 restrictions in Box Elder County, a spike in cases locally and statewide has prompted the state to reverse course, designating Box Elder as a high-risk transmission area and implementing new requirements including a mandate for people to wear face coverings in indoor settings.
Gov. Gary Herbert announced on Sept. 10 that Box Elder County could join the list of counties operating in what the state at the time called the "green phase," in which people and businesses would be allowed to operate more or less as usual.
As the number of positive COVID-19 cases began to rise in the ensuing weeks, the state implemented a new strategy on Oct. 15, including an order for people to wear face coverings in public for two weeks. At that time, Box Elder and most other counties were designated as "moderate transmission risk" areas. But last week, the county and several others were moved into a "high risk" tier, mandating the wearing of masks in all indoor settings and limiting all social gatherings to 10 or fewer people unless masks are worn.
The number of positive cases in Box Elder County has nearly doubled since Herbert's order allowing the county to move to the "green" phase, from 470 on Sept. 11 to 915 as of Oct. 25. Those numbers mirror the statewide trend, with Utah seeing its total case count rise from 56,675 on Sept. 11 to 104,882 as of Oct. 25.
However, hospitalizations and deaths in the county have remained relatively low, with six deaths in Box Elder attributed to COVID-19 since the beginning of the pandemic and four people hospitalized in the county as of last weekend, with 605 people reported as having recovered from the illness caused by the new coronavirus.
Under the new statewide public health order, a county is designated as high-transmission if it meets two of the following three requirements: The county's seven-day positivity rate for COVID-19 tests equals or exceeds 13%, the 14-day case rate is 325 per 100,000 people or higher, or the statewide utilization of intensive care unit beds reaches 72% or higher (or overall ICU utilization rate reaches or exceeds 15%).
Last Friday, the state reported the a new daily record high of 1,960 cases statewide, prompting Herbert to warn in a statement that the state is "on the brink," and pleading with people to adhere to mask mandates in place in 21 of the state's 29 counties. He said people should wear masks anytime they are with people beside their immediate family, even if its extended family or friends.
Capacity at the state's intensive care units reached 76% last week, with more people hospitalized this week for COVID-19 than at any other time during the pandemic, state figures show.
"Up until now, our hospitals have been able to provide good care to all COVID and non-COVID patients who need it. But today we stand on the brink," Herbert said. "If Utahns do not take serious steps to limit group gatherings and wear masks, our healthcare providers will not have the ability to provide quality care for everyone who needs it."
Utah had the seventh-highest rate of newly confirmed infections per capita last Friday, according to data from Johns Hopkins.
Under high-risk status, those hosting events in which 10 or more people are expected to attend must have a facemask requirement in place and fill out a form provided by the state health department outlining the precautions that will be in place. Events must also adhere to a 6-foot social distancing requirement unless they obtain a waiver from the local health department.
Schools are operating under a separate, statewide order, and the face-covering requirement for students, faculty and staff at all public schools remains in place. The new state public health order does not apply to religious services, although faith-based organizations are strongly encouraged to follow the recommendations.