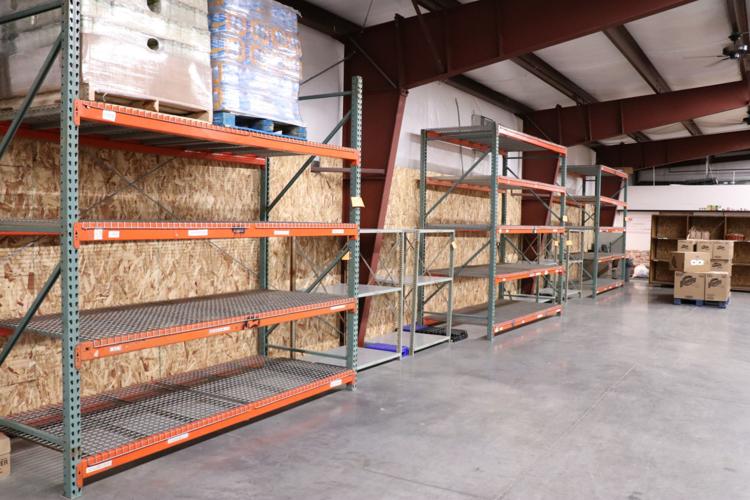 The Tremonton Community Food Pantry has long been an important resource for people looking for a little help to make ends meet.
Now, the pantry itself is in need of a lifeline.
As people hunker down and focus on making sure their own households are taken care of during the COVID-19 outbreak, individual donations to the food pantry have all but dried up. Grocery stores, facing a surge in consumer demand, have also scaled back their donations.
Combine that with the postponement of the two main food drives it relies on for its annual stockpile, and the facility is officially in crisis mode.
"I've been here almost 15 years, and this is the first time I've been really, really worried about running out of food and having to lock the doors," Pantry Director Cathy Newman said. "It's a real concern at this point."
A truck from the Utah Food Bank typically makes deliveries to the pantry twice a month, but Newman said she canceled a delivery in early March in anticipation of receiving a large amount of food from a food drive that has become the pantry's biggest source of inventory.
The Feed Utah Food Drive is a collaboration between the Boy Scouts of America, Associated Food Stores, Utah National Guard, JustServe, UPS and the Utah Trucking Association. Newman said the Tremonton pantry typically relies on that event for about nine months' worth of supplies. The drive brought 31,000 pounds of food to the pantry last year, but due to social distancing and other precautionary guidelines, the effort has been postponed indefinitely this time around.
"I'm sure their donations are way down, too," she said.
Also on hold is the annual U.S. Postal Service food drive, which usually happens in May.
"Those are the only two we have," Newman said. "We're gonna be hurting."
She said the Feed Utah Food Drive will still happen whenever it becomes safe to do so, but "it's just a matter of when."
In the meantime, the local pantry is having to severely limit the amount of food and supplies it can offer those who come in during the six hours per week when it is open to the public (3-6 p.m. Monday and Tuesday).
"I've just had to cut the numbers way, way back," Newman said. "The families that do come in don't get as much as they normally would. We're just trying to spread it out as much as we can."
She doesn't blame local residents for cutting back or eliminating their donations to the pantry.
"It's understandable," she said. "People want to have enough food for their families."
She said she's most concerned for the older residents on fixed incomes who have come to rely on the facility.
"Some of them just live on Social Security," she said. "They don't have a pension or retirement, so they really depend on us to help them."
If things get any tighter, she said the pantry might have to fall back to where it is only serving people who are 70 years and above.
Newman said anything that people can spare is welcome. She said canned foods are typically still useful for up to three or four years beyond their "best-by" date, and even bottled items like ketchup are good for a year or two past the date.
She points out that the Tremonton pantry was originally set up as an emergency food pantry, so with the COVID-19 outbreak, "this is a perfect example of why we're here."
Meanwhile, the pantry has some food left, and will remain open as long as it can do some good, Newman said.
"I figure we can stay open as long as we've got food," she said. "Hopefully this will calm down and people will start donating again."