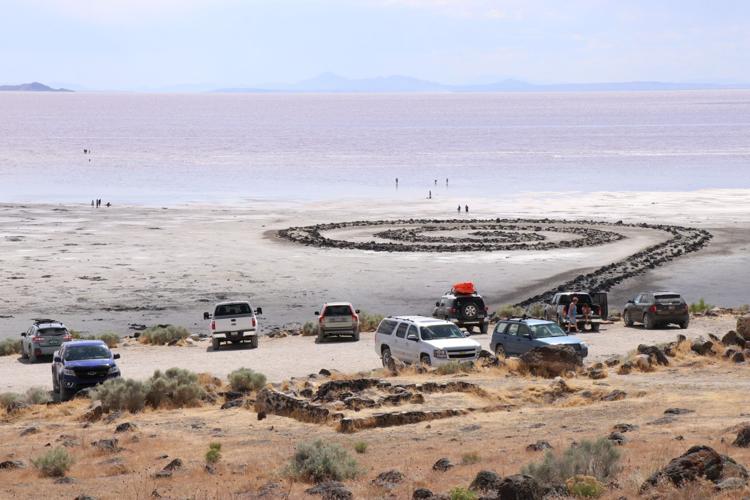 On a sweltering, early summer day last month, the parking area at Spiral Jetty was bustling in the middle of the week.
Vehicles sported license plates one might expect to see – several from Utah, one from Idaho – but at least one car had traveled much farther.
Best friends Lindy and Arielle (last names withheld at their request) were spending their summer break from college as cross-country travelers from Vermont to California, making numerous stops along the way. They had read about and seen pictures of Spiral Jetty, and the legendary landscape art project along the northern shore of Great Salt Lake appealed to their own artistic sensibilities, so they decided to exit I-80 and head into the desert. The detour had gone smoothly, thanks in part to the recently improved gravel road.
"It's kind of the middle of nowhere, but we like that," Lindy said.
Western Box Elder County has always been a place where people can expect to find solitude.
A sign along Highway 30 near Snowville warns westbound drivers that the next services are more than 100 miles away. The area is hemmed in on the south, east and north by major interstate freeways, but few roads interrupt the vast expanse of mineral-encrusted playas, rolling rangeland and rugged mountains.
Despite the desolation and remoteness, or perhaps because of it, locals have noticed an uptick in visitors to the west desert in recent years. With concerns about the new coronavirus impacting summer travel plans, more people are looking for physically distanced vacations and eschewing more well-known destinations for less-visited locales.
For decades, the remote parts of Box Elder County didn't see many visitors outside of railroad buffs coming to visit the Golden Spike site and other historic rail artifacts around the county. In recent years, however, increased publicity for sites like Spiral Jetty and the Sun Tunnels have been attracting more people from beyond the borders of the county and state.
"It's not just the railroad," County Tourism Director Joan Hammer said. "People are coming to see some of the other things we have to offer."
A lack of services and amenities has kept places like Spiral Jetty, Devil's Playground and Locomotive Springs relatively free of crowds. But as visitation gradually increases, interested parties are looking to invest in improved signage and roads, as well as restrooms at some of the more regularly visited spots.
The Public Lands Equal Access Alliance, an Ogden-based nonprofit that lobbies for off-highway vehicle access, is one of the groups getting involved. Glen Olsen, the group's president, said PLEAA has been working to obtain grants through Utah State Parks to install signs, kiosks and maps to help people find their way.
"There really isn't anything available out in Box Elder County for these types of things, so we're just working to help rectify that," Olsen said.
PLEAA has been actively involved in most of Utah's popular trail networks, having recently finished a two-year project to improve signage on the Shoshone system in Cache and Rich counties.
Perhaps the biggest draw of the west desert is its OHV trail offerings. Devil's Playground, which features several trails winding among bizarre rock formations, is already a well-known spot and is conveniently located next to Highway 30. However, as more people have discovered the potential of Box Elder County and started exploring more, it has led to some problems.
Olsen said the county is still largely uncharted territory for the greater OHV community. There isn't an organized, integrated trail system similar to what can be found in some other parts of Utah.
"There's been several places people focus on, but Box Elder County for a lot of OHV people is still a mystery," he said. "They don't understand the layout or where things are, and there's no facilities, so people are hesitant to go there."
Some who travel there in search of a new riding experience end up getting themselves in trouble in an unforgiving landscape.
"There's been some issues in Box Elder County with people being hurt, and search and rescue not being able to find them," he said. "Even if they have (cell phone) coverage and they're broke down, they get confused trying to tell somebody where they are."
Olsen said the plan is to put signs on the ground and create an overall trail map of the area. Different trail segments would be numbered to correspond with points on the map, helping people find their way and know where they are at all times.
Coordinating everything with the various state, federal, county and private land interests is the biggest challenge in the process.
"There's a lot of work to do and it's not going to happen overnight," Olsen said. "We want to make it so people can recreate safely – that's the bottom line."
In another potential boost to ATV-related tourism in the county, officials are working on joining the High Desert Trail system, with the ultimate goal of providing an opportunity for people to ride from the southern border of the state near St. George all the way to the Idaho line.
The High Desert Trail taps into existing networks like the popular Piute trail system. Hammer said the concept originated in Beaver County, which already has a well-organized network of trails.
As the network started to grow and expand into Tooele County over the past couple of years, she said her counterpart in Beaver County called last year to talk about continuing the effort north into Box Elder County to create a true, end-to-end statewide route.
County Planner Scott Lyons got involved in determining the best route through the county. One of the biggest challenges was finding a place to cross I-80, and it was ultimately decided that going through Wendover on the Utah-Nevada border was the best option.
Steering trail users toward Wendover gives people an opportunity to gas up, spend the night and find other resources on the remote route, Lyons said.
The route will follow the eastern edge of the Pilot Mountains, one of just two main north-south roads in the area (the other leads into the Utah Test and Training Range, a military area where public access is restricted). It heads up through the old railroad town of Lucin, passing near the Sun Tunnels and making its way to Grouse Creek, where a trailhead and staging area on a piece of county property is in the works.
Lyons said a final leg to complete the statewide route is yet to be determined. Officials are looking at different options for connecting into the Raft River Mountains near Park Valley, and eventually over to the Idaho state line.
Hammer said becoming part of the High Desert Trail presents a lot of opportunity for bringing more visitors and recognition to what Box Elder County has to offer.
"For me, the fact that this is a statewide project is really exciting," she said. "People are used to riding ATV trails in Beaver, Piute, Sevier counties – places with long-existing trails that have hardcore followers. To be a part of some of those, to tap into some of those groups that have never been able to experience what we've got up here, that's an exciting new audience that we would be happy to have up here."