Several local companies and organizations stepped up to help the Preston Community Food Pantry at what director Steve Aust calls a special time of year.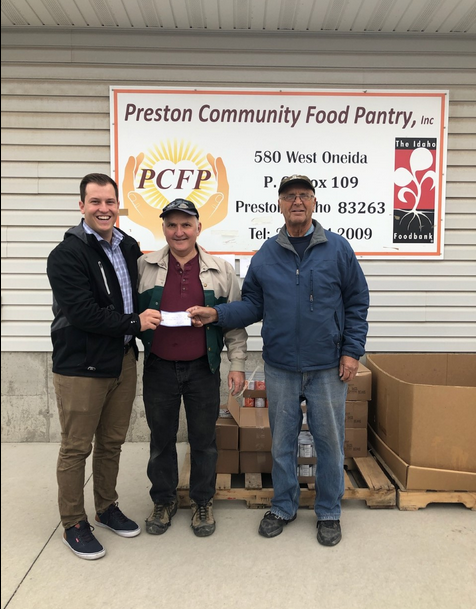 "It is special in terms of providing food for the needy and special in terms of our needs. Both are being met by the community. They need our heartfelt thanks," he said.
Individuals and various organizations donated a huge amount of food. Various wards of The Church of Jesus Christ of Latter-day Saints, local banks, Utah State University, 4-H and FFA clubs have conducted food drives on behalf of the pantry.
Financial support has come from companies such as Fox Pest Control, of Logan, Utah, the Preston Community Presbyterian Church and various individuals as well, said Aust.
"I can't be more thankful," said Steve Aust, director of the pantry. That will keep us running for two months, he said, referring to Fox Pest Control's $500 donation. Individuals, too, said Aust, have helped. "A lady just walked in and handed me a $100 bill," he said.
The cash donations are appreciated because they can be used to cover financial obligations such as power and insurance, which average about $300 per month, said Aust.
Any funds garnered over the center's operation expenses are used to purchase food from the Idaho Food Bank. "Each dollar will purchase about $7 worth of food from the IFB. All food from the IFB is delivered to the pantry by Bear River Publishing, Co," said Aust.
Last week, the Todd and Teresa Lundahl and family, as well as some employees of Lundahl Ironworks gathered with several volunteers to pack and pass-out boxes filled with the makings of a Thanksgiving dinner. It's a tradition their family looks forward to each year, said Teresa.
"My grandkids are so excited to come up," she continued. The time they spend gathering resources and putting the boxes together is an opportunity for Teresa to ensure that her grandkids know that the holidays are "not all receiving, its giving," she said.
Her daughter, Teramie, helps them practice giving, too. She sews-up bags of rice, takes her children, nieces and nephews to a store and send them out to give the bags away at stores on Christmas Eve.
"It's nice," said Baylor, 14.
"Its fun to catch them off-guard. A lot of people try to pay for them. A lot of people get really emotional," said Teramie. Ten-year-old Kenlie said she enjoys helping people, seeing them happy.
The joy of giving is enjoyed by adults as well as children.
When Christian Thorn, of Fox Pest Control, of Logan, Utah, heard that over 100 people were depending on the pantry for their holiday meals, he knew he had to get involved. Finding a way to help the pantry brought back many memories of his own family.
"It's cool, because when I was growing up we received a lot of help when my dad was out of a job. It struck a chord. Hopefully this will be helpful to them," he said.
The pantry provided 136 Thanksgiving dinners to its patrons this year. Those who helped provide that meal were: Stokes Market, Lundahls Building, Lundahl Ironworks, Gossner Foods, Lee's Supermarket, Schreiber Foods, Casper's Ice Cream, Theurer's Quality Meats, Macey's, South Logan Wal-Mart, The Home Depot, Gilt Edge, and Nick Lloyd.