(Editor's note: This is part one of a two-part series on how social media is threatening the well being of today's children.)
"The parenting game has totally changed," parents were told Jan,. 27, by Collin Kartchner, founder of Save The Kids. He spoke with youth at the high school and junior high in both Preston and the West Side school districts earlier in the day. Kartchner says todays youth are facing a health crisis.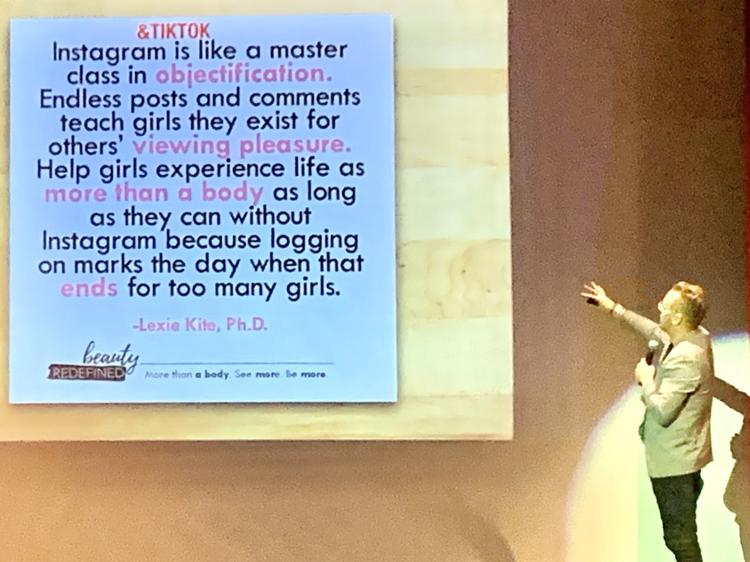 What's the problem?
"Social media and screens are robbing kids of real childhoods," said Kartchner.
Although the first smart phone was invented in 1992, it didn't become widely wanted until 2007, when the iPhone was launched with its practical capabilities. Since that time, the apps designed to run on cellphones have mushroomed. And both science and society are now starting to see the effects of unfettered use on society's most vulnerable citizens, the children.
Snapchat, Tik Tok, Instagram, texting, emails, Facebook, Pinterest, and a myriad of other apps and online gaming are used by the average person today for entertainment, or to "connect." Unfortunately, those mediums are also used prolifically, and proficiently, by predators bent on destroying children.
But the problem isn't just who the children connect with.
Youth are drowning in FOMO (a Fear of Missing Out), feelings of inadequacy, and a lack of resiliency, Kartchner told parents. He has also been a featured TedX speaker on the subject.
Since organizing Save The Kids, Kartchner has made a point of talking to youth and children every day to learn their perspective on the challenges they perceive in their lives.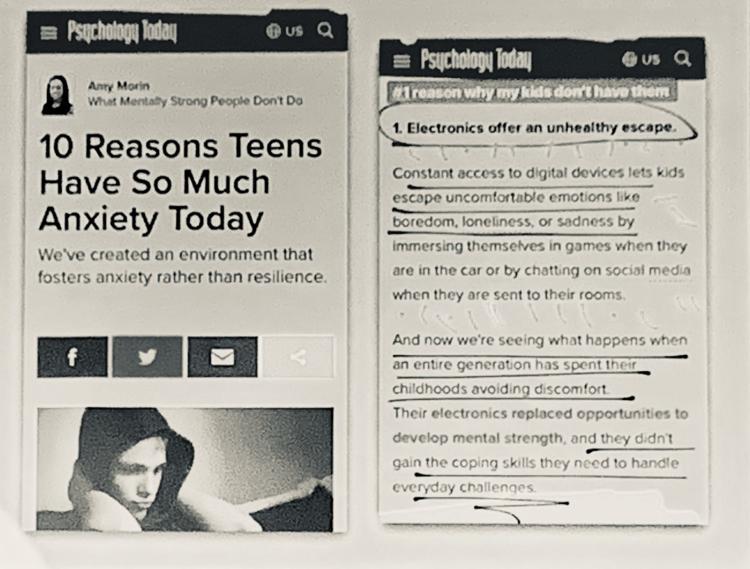 What he has discovered is that "it is a really stressful time to be a kid (if they have social media)."
In reality, Kartchner said, "kids haven't changed at all." The technology humans have invented fosters anxiety. So the challenges children have always faced as they discover who they are, have become almost insurmountable because social media intensifies and expands the pressures youth have always felt at this time in their lives.
Children have always compared themselves to others around them, deciding how they measure up, or whether they have worth as an individual. And bullying has always existed. The difference, Kartchner said, is that with social media, there's no where to escape from the comparisons or the bullying.
"It doesn't end with the school bell," it follows them home and deep into the night if they are on social media, he said. Thirteen-year-olds make gaffs. Now the those embarrassing moments never go away.
"If you are 13 today, there is nowhere to run. And it is soul crushing," he said. Children without a positive relationship with parents or guardians are especially at risk, he said.
The day that one could give their child a smartphone and let them navigate it themselves is gone, he said. The statistics and science behind that statement are starting to pile up:
• About a quarter of young women in the United States report feeling pressure from social media to be perfect.
• One in four Utah teens say they feel sad enough to consider suicide.
• The suicide rate of girls ages 10-14 jumped 141 percent since 2010.
• Doctors are reporting that children have committed suicide because their parents have taken their phones.
• 1 of 4 children age 14 in the UK are self-harming citing pressure from social media to be perfect as the cause. US statistics are similar.
• Between 2013 and 2017, 110 Idaho school children (age 6-18) died by suicide; a quarter of them were among children age 14 or younger.
• In Idaho last year, among people age 15-24, there were 23.9 suicide deaths per 100,000 people. The national average is 14.4, states information from the United Health Foundation.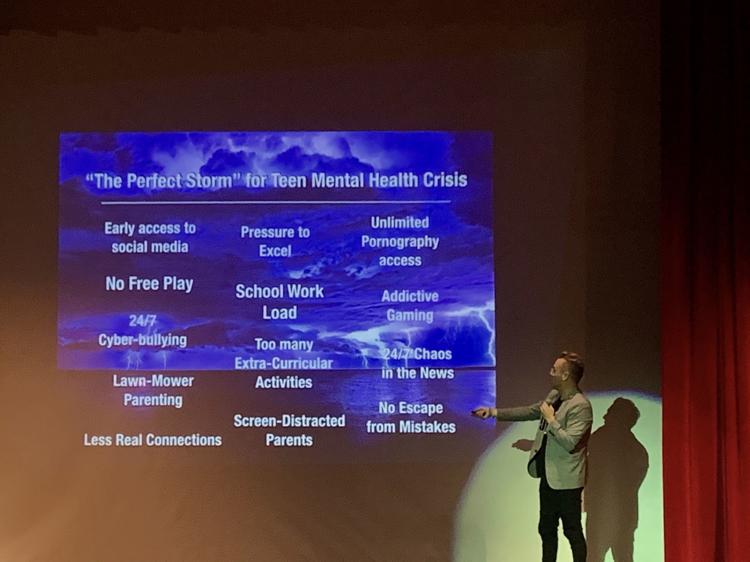 In addition, if a child has access to any form of the internet, it is not a question of if they'll see pornography, but when. He shared images captured off of YouTube for Kids that would make an adult blush.
Kids themselves have told Kartchner that social media is stealing their joy, stealing their childhoods and teaching them to hate themselves. "It robs them of the ability to feel real connections. Instead of dealing with their emotions, they scroll through social media. Which is robbing them of resiliency. It teaches them that they'll never be good enough," he said.
Kartchner said he began campaigning for parental awareness of those effects when he learned of the death of a young woman who had been a close friend of his daughter. When her mother explained what happened to the girl, she pulled a smartphone out of her pocket and told Kartchner, "I gave her a loaded gun (the phone) when she was in middle school."
Kartchner stressed the importance of supporting youth rather than condemn them when they find themselves addicted to their screens or having seen pornographic images. It is important for adults to realize it was themselves who provide the device, he said.
Next week's edition of The Preston Citizen will feature suggestions to help parents aid their children navigate social pressures, develop resiliency and thrive in todays' society.