The Pirates face undefeated McCall-Donnelly next Saturday at 1 p.m. at Eagle High School in their first 2A state championship game since 2014.
"We'd love to have as much support as we can," said coach Tyson Moser. "I'm really proud of the season we've had so far." And he expects good results this weekend. 'We are playing our very best football right now," he said. McCall-Donnelly is definitely bigger than we are, so we are deepening on our speed," he said.
Last year, the Pirates faced McCall-Donnelly in the semi-finals. The Pirates beat them by two touchdowns, but it was "a very tough game," said Moser. With 11 of the opponents returning from last year, "we are expecting to play a really good team," he said.
West Side demolished Melba, 40-8 in the 2A state semifinals last weekend.
"No one thought they had it in them," West Side coach Tyson Moser said. "After losing all of our seniors last year, they kind of gave up on us and didn't think we would be here and this group of kids have been the underdogs all season and they just kept fighting and proving everyone wrong. I'm just super proud of them."
McCall-Donnelly will be facing a wrecking ball in West Side, which is beating 2A opponents by an average of 24 points per game and outscored its playoff opponents 83-30.
West Side's latest shellacking was thanks to all three phases.
The Pirates (10-1) scored seconds into the game on a kick return touchdown by Cage Brokens, a designated blocker in the middle level of the kickoff coverage. But Brokens showed why he also plays running back, darting down the sidelines and into the end zone on the kick return.
"I got that perfect block. I don't know who it was from, and then it was just wide-open field from there," Brokens said. "You've just got to set the tone and try to get the wins."
Four plays later, the margin increased to 14-0. After the Pirates' defense put their offensive cohorts in good field position with a fumble recovery, Wayne Beckstead rolled left and threw a 15-yard touchdown pass to Jaxon Moser on the first play of West Side's second drive.
"Momentum's a huge thing in high school football. We don't get that kick return and that fumble, this could've been a different game," coach Moser said. "I don't believe, honestly, that we are (32) points better than them on an average day."
Cristian Plancarte scored West Side's next two touchdowns, using his speed on a pair of 16-yard jet sweeps.
"That's one of our base plays and he's super fast," Moser said. "When they're plugging the middle up on us like that and we're not able to get much going up the middle, that play's going to be open for us."
In a battle between West Side's second-ranked 2A scoring defense and Melba's second-ranked 2A scoring offense, the Pirates clearly came out on top.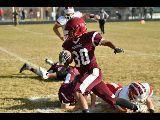 It took until the third quarter before Melba (8-3) scored its only touchdown, needing trickery with a 75-yard touchdown on a halfback pass from Scott Martinez to Cameron Wood.
The Mustangs' eight points were a season-low against 2A competition.
"It's just 11 players on the field playing hard for each other and a great defensive staff that gets them ready every week," said Moser, whose team uses a 5-3 base defense. "There's nothing fancy about it. There's no secret."