A little over five minutes after they caused a gasp at the finish line, Edison Leffler and Sunny Gunn remained in dismay. The seniors from Preston and Pocatello, respectively, were not but a few strides from the funnel where the late finishers were coming through. Two of the best 4A runners in Idaho still talking through the race, still shaking their heads, still smiling.
"That was awesome," Leffler told Gunn. The lengthy, dark-haired Thunder senior agreed.
What both of them didn't know at the time was just how close the finish was.
Leffler and Gunn stayed on each other's hip practically the entire 5,000 meters. Gunn made his move with less than a mile to go and Leffler retook the lead on the final hill. All of which turned the final 100 meters into a test of who had the better kick – which seemed like it favored Gunn, considering he placed fifth in the 800 at state track.
"He put some miles in this summer," Pocatello coach Shannon Whitmer said of Gunn. "To be honest, I think he knew he had shoes to fill. We lose Brevin (Vaughan) and Shane (Gard). He's good at taking the BMOC (Big Man On Campus) kid position. He's like, 'Hey I want it,' and he worked for it."
About 10 meters from the line, Leffler looked to have a half-step on his Pocatello competitor. But, for good measure, the Preston senior dove headfirst through the gate, landing on his side and rolling to his back.
Leffler has a distinct look. He wears curly bleach-blonde hair that bobs on his head with each step. If that's not enough, he sports dark, polarized glasses over his eyes every time he runs. After Thursday, though, he may consider showing up to every race donning a blue cape with a block 'S.'
"I just did not want to lose after all that pain," Leffler said.
He didn't – but, boy, was it tighter than it looked.
Both Leffler and Gunn's chips read 16:34.2. Because the chip was secured on each runner's shoe, it may be the case that Leffler's Superman dive actually hurt his time by a few milliseconds. Regardless, a ruling was made at the line that Leffler crossed first, that he was the 4A District 5 champ.
If Gunn was even a tad disappointed, he didn't show it. The top two finishers stood together for a while, pacing around with this look of disbelief plastered across their face. Rather than dwell on the result, the pair seemed to join in elation over the 16-and-a-half minutes of battle.
"It's actually been really nice to have some solid competition," Leffler said. "Sunny is such a talented runner."
"Oh my gosh, his kick," Gunn added. "I couldn't."
The real winner of the day, though, was Preston. The Indians girls and boys team both finished first in the three-team conference. And, because Pocatello finished second in each, both the Indians and Thunder will compete at next Friday's state meet at Eagle Island State Park.
After Gunn crossed the line second, the next six runners were from Preston. They were, in order, Garrett Hale, Reynger Davidsavor, Luke Visser, Gage Corner, Druw Jones and Ty Robertson. Rounding out the top 10 were Century senior Myles Guerrero and Pocatello's Andrew Nielson.
Turning attention to state, however, both Leffler and Gunn have high expectations.
"Obviously, Sunny wants to take first and I want to take first," Leffler said. "And there are a couple of Blackfoot kids – Eli Gregory and he's got a teammate (Matt Thomas) that's right with him. There's a group of us."
The ending of the girls race featured far less drama. Pocatello junior Bailey Bird (19:38.8) crossed the finish line, hugged her grandma, chatted with some onlookers then saw the second-place finisher – Preston's Angelie Scott – complete the race 55 seconds after her.
A year after finishing second at state, Bird has the second-fastest time in 4A this season behind only Skyline's Nelah Roberts, the reigning state champ who edged out Bird by 15 seconds at the Bob Conley Invitational.
"Last season, I didn't start off really fast at the beginning of races," Bird said. "This year, I've started staying up at the front because I was starting off too slow last year."
"I think it's just maturity," her coach added. "She's getting a little more sure of herself and a little stronger," Whitmer said. "It would be nice to see her get a medal (at state), for sure."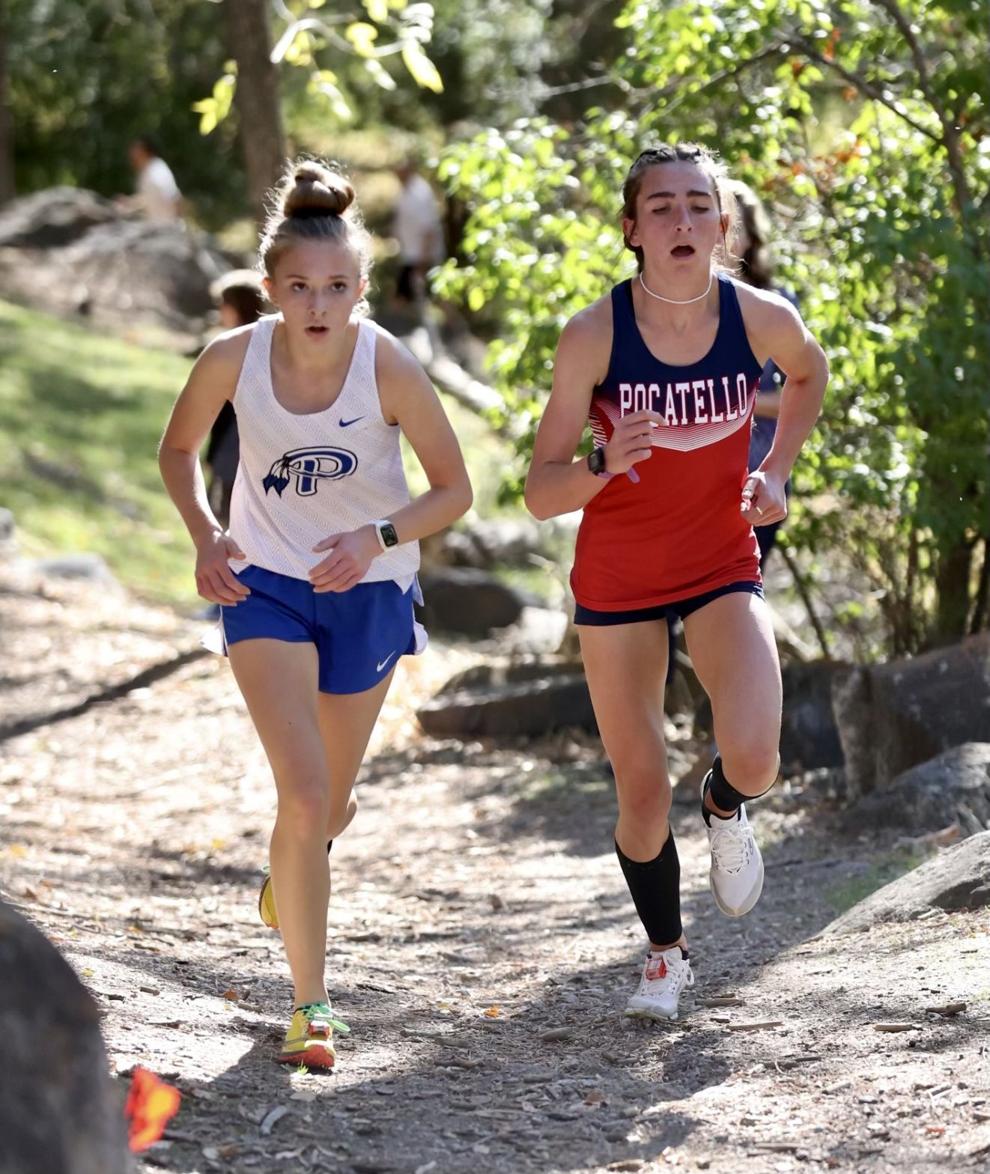 Pocatello had two other runners – Hailey Renzello (5th) and Taylor Bunderson (6th) – finish with medals. But, aside from that Poky trio, the rest of the top 10 belonged to Preston.
After Angelie Scott, the Indians top placers included Elly Jeppsen (3rd), McKinley Scott (4th), Oakley Reid (7th), Tenley Kirkbride (8th), Maren Leffler (9th) and Ashley Scott (10th).
What's crazy is only one of those seven is an upperclassman.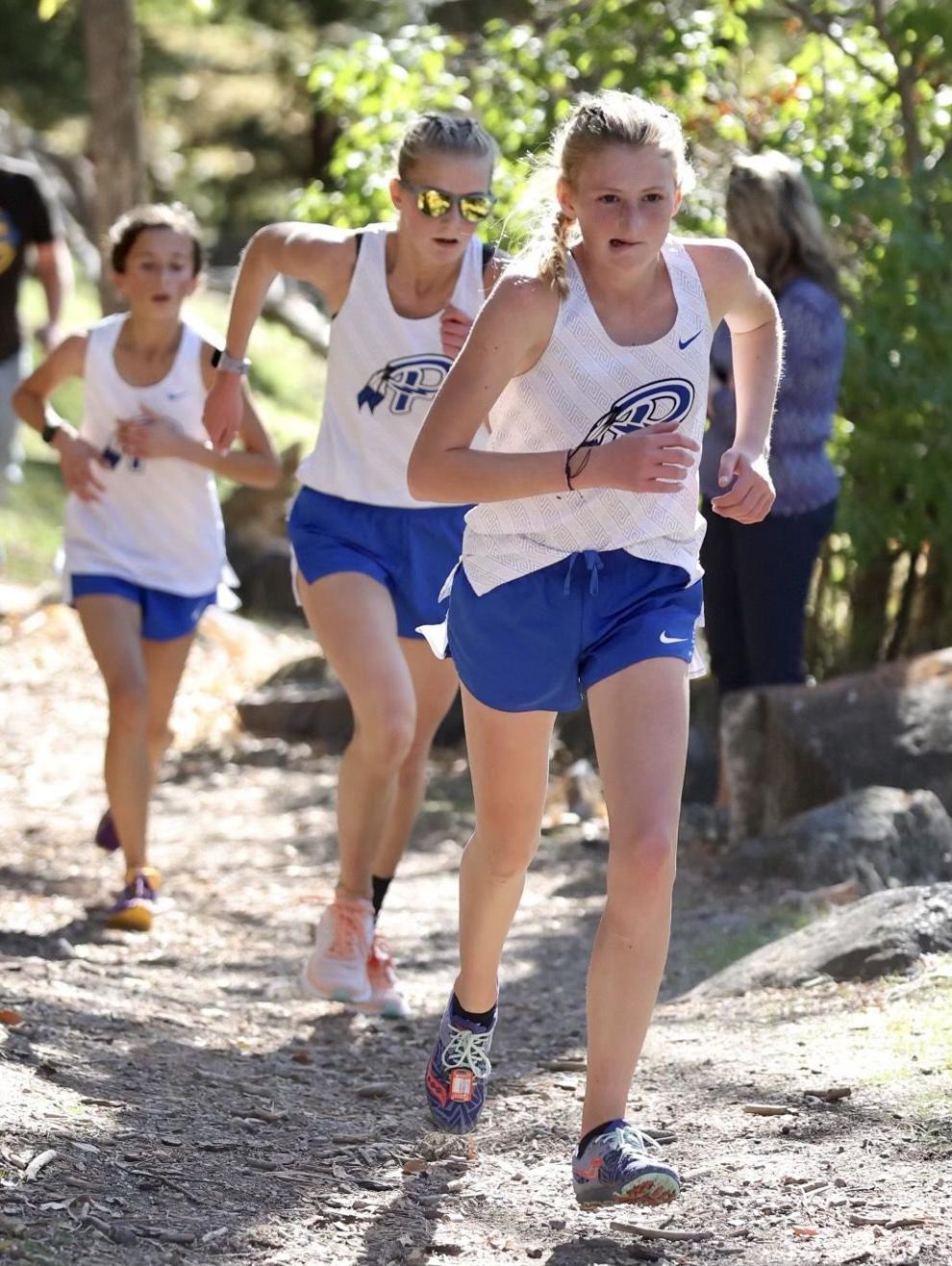 "They just keep getting better and better," said Preston coach Tyler Jones. "This year, they've taken another step forward and improved our pack is tighter than it's been, which has given us a boost also.
"They've had the goal to win districts then, next week, we want to hopefully be up there and have a shot at the blue (first-place) trophy."