LAS VEGAS -- It hasn't happened since 2014, but the Aggies got it done.
Sam Merrill hit a dagger of a shot from beyond NBA 3-point range with 2.6 seconds left to lift Utah State to the Mountain West Men's Basketball Championship title. The Aggies overcame a 16-point deficit and watched a halfcourt shot that rimmed out at the final buzzer to beat No. 5 San Diego State Saturday afternoon in the Thomas & Mack Center on the campus of UNLV, 59-56, in front of 10,292 fans.
With the win, USU punched its ticket to the NCAA Tournament.
"When we lost at New Mexico last week, I know coach (Craig Smith) said he doesn't pay attention to bracketology, but I do, and I knew that the cards were stacked against us," said Merrill, who finished with a game-best 27 points and six rebounds. "This morning getting prepared for the game, I was just ... I did not want to play in the NIT. I didn't know what was going to happen if we lost. … We had a sense of urgency all week. We didn't play incredibly all week, but we found a way to win, and for me personally, just to be a part of it and to see all those fans there and to see Utah State back on the map is -- like I said last year, it's unlike anything I could have ever imagined."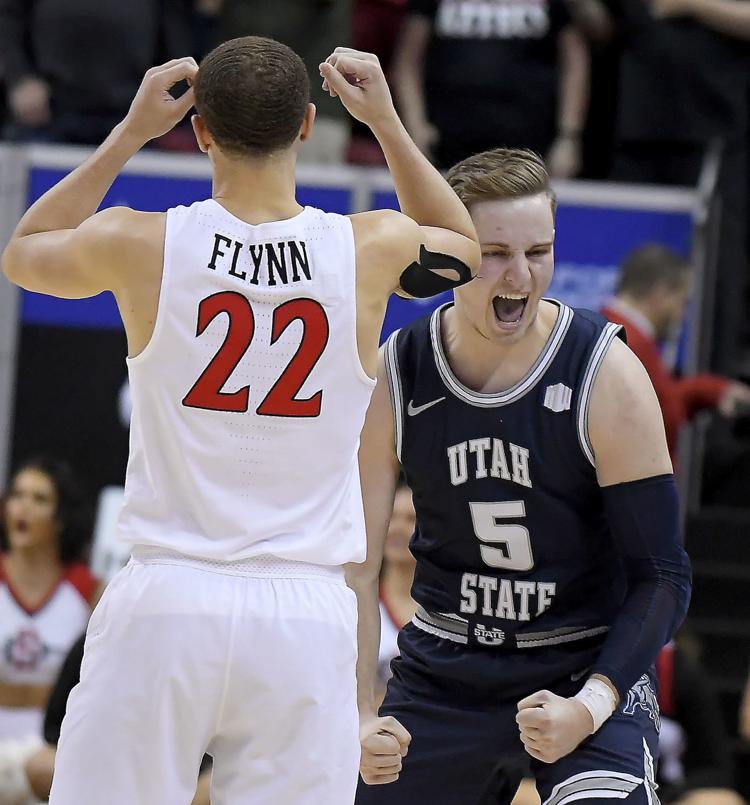 The Aggies (26-8) repeated as tournament champions. The last team to do that was New Mexico in 2014.
"I thought our guys played with a tremendous poise tonight," USU head coach Craig Smith said. "I know that's easy for me to say being on the victorious side, but that was a whale of a basketball game, two highly competitive teams, two very, very talented teams."
There was drama right down to the final second. Merrill missed a free throw in the final minute of a game for the first time in his career, but he did make the second to tie the game at 56-56 with 39 seconds to play.
First ever in the last minute of a game in my career, so that's sad," Merrill said.
SDSU's Malachi Flynn missed a 3-point attempt with less than 30 seconds to play, and Merrill grabbed the rebound. With one of the best defenders in the league in KJ Feagin on Merrill, the USU senior dribbled and waited for the clock to tick down. Then he launched what Aggie faithful will refer to for years as the shot. Nothing but net.
"I was just trying to get a good look," Merrill said. :We had been hoping that I would get that opportunity. I barely slept last night, partially because the schedule is rough when you play that late-night game Friday night, and it's a quick turnaround, only got a few hours of sleep, but I was just hoping that I'd get that opportunity, and I had a move and vision that I was going to do. I didn't get to it because he (Feagin) took it away, but I just threw it up there and it went in. I made that shot before, but you guys know what I'm saying."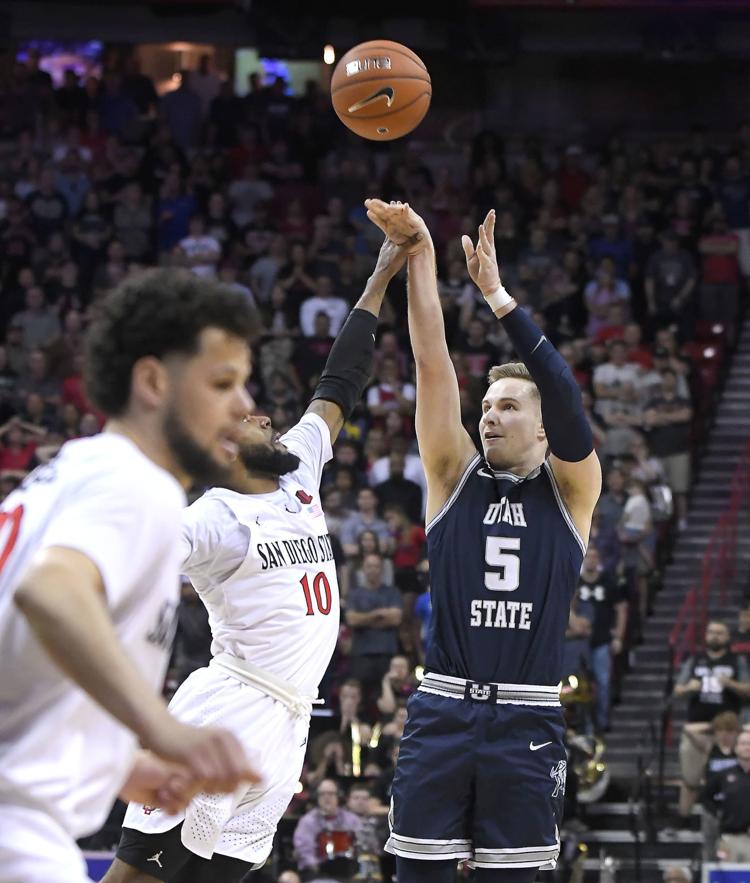 The Aztecs still had a chance after both teams took timeouts. Flynn, the reigning MW Player of the Year, got off a shot just over midcourt. It drew iron, but rimmed out to the relief of those in blue.
"It kind of felt like one of those games where whoever is going to have the ball last is going to find a way to win, and then they almost throw in a half-courter," Smith said. "But it was a heavyweight fight. We knew it was going to go 15 rounds, and fortunately for us we were the last man standing."
The Aztecs had won both meetings in the regular season with the Aggies, but could not shake them this time.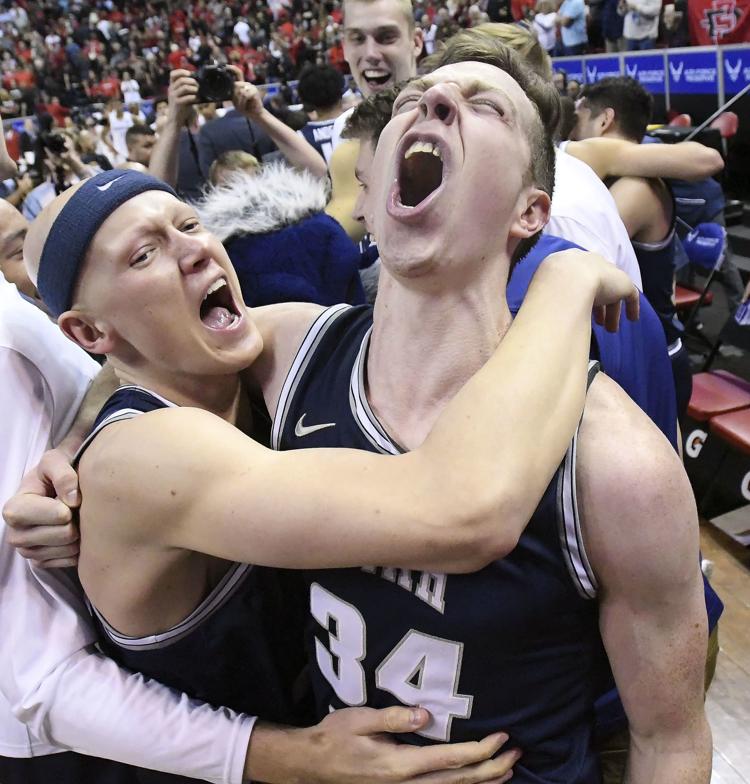 "Basically, the game ended like this," SDSU head coach Brian Dutcher said. "Our best player had a step-back three, he missed it. Their best player had a step-back three and he made it. The current MVP, Malachi Flynn, had a shot, it didn't go in. Sam Merrill had a shot, it went in. So, both coaches put it in their best players' hands. Malachi even had a half-court shot that looked like it was going in. So that's March Madness."
It was not looking good in the first half for the defending tournament champs. USU did not make a field goal for a stretch of 12:53 minutes. During that timespan the Aggies scored just four free throws. But the cardiac Aggies still got it done.
"We just had to stay the course," Smith said. "There's going to be up and downs, but you just can't get distracted. Effort, effort, effort, and we did say that every timeout."
The final nine-and-a-half minutes were wild. There were five lead changes and the score was tied twice.
Merrill started to heat up, drilling back-to-back 3-pointers to give USU its first lead in nearly 23 minutes. His second trey was from NBA range and gave the Aggies a 44-42 lead with 8:56 to play.
"Sam Merrill stepped up and made great plays," Dutcher said. "... Sam is a hard guy to guard."
After the Aztecs had regained the lead, USU used a 7-0 run to get back in front. Neemias Queta had five of the points, including a three-point play. Alphonso Anderson, who once again came up big off the bench with eight points, made two free throws. The Aggies held a 51-47 lead with 6:36 to play.
Flynn gave the Aztecs their last lead, 56-55, with a jumper in traffic with 1:06 to play. Then it was the Merrill show for the third straight game to end the tournament.
Queta was the only other Aggie to reach double digits in scoring with 15. Justin Bean grabbed a team-best 12 rebounds and four assists.
"This one is even sweeter than last year," Queta said. "We had a lot more more downs than last year, and we just stuck together and just found a way to overcome everything that came at us. Coach Smith just always told us to like stay together and just always try to think of the next play and keep staying together. It was just great. I don't have words to explain it."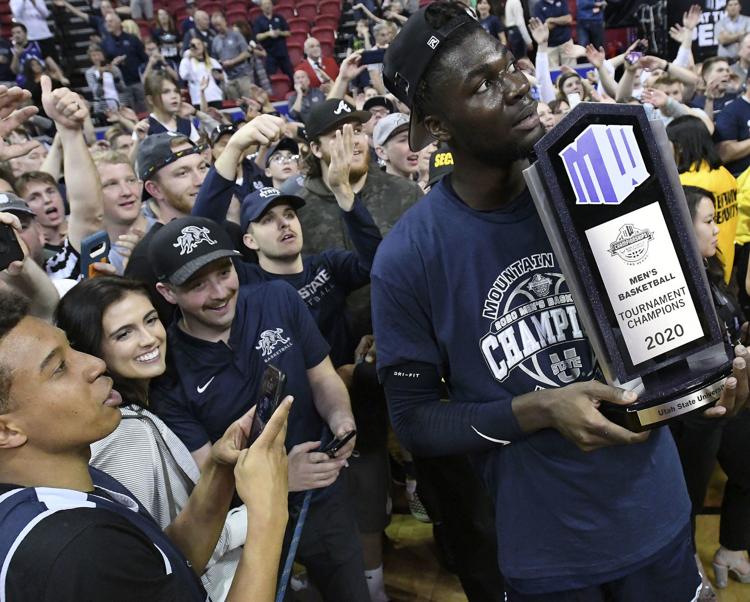 Flynn led the Aztecs with 16 points on 6 of 20 shooting. Yanni Wetzell had a double-double with 12 points and a game-best 13 rebounds. Feagin netted 11 points.
Merrill drilled a 3-pointer to start the scoring, and the Aggies built a 7-2 lead. The Aztecs missed their first five field goal attempts and was 1 of 9 to begin the game.
Baskets were hard to come by for both teams, but SDSU warmed up a bit. USU went ice cold.
The Aztecs used their first 11-0 run with a trio of 3-pointers to grab the lead. Feagin nailed a pair of treys as SDSU jumped ahead, 13-7 with 8:08 left in the first half.
After four free throws by USU ended a scoreless stretch of six minutes, the Aztecs were off and going on another 11-0 run. Wetzell capped the surge with a three-point play to give SDSU a 27-11 lead with three minutes left in the opening half.
The Aggies ended a field goal drought of nearly 13 minutes when Merrill scored seven straight points. USU finished off the first half with a 10-2 run, including a huge 3-pointer at the buzzer by Diogo Brito.
San Diego State took a 29-21 lead into the break.
The Aggies began the second half with a 7-0 run and was right back in the game. Merrill sank a 3-pointer to pull USU within 29-28.
"We felt like if we could stay the course we're getting good looks, and certainly just that three-minute stretch or whatever it was, and certainly Diogo drilling that three was huge, and that 7-0 start (to the second half)," Smith said. "We made up some monster ground in that about six-minute stretch, and then we knew it was just going to come down to the wire, and fortunately for us we were able to make one more shot."
After the Aztecs had grown their lead to seven, Andeson hit back-to-back 3-pointers. It was tight the rest of the way.
"Alphonso Anderson gave us some huge minutes all game long but certainly hit those two huge threes when they were up eight or seven, and it kind of kept them at bay," Smith said. "We were able to get enough stops there down the stretch."
The 56 points were a season low for the Aztecs.
"To be able to just find a way to win three tough, tough games against New Mexico, who was probably playing their best basketball, Wyoming, who was absolutely playing their best basketball of the season, and then San Diego State, who's as good as advertised, it's super sweet," Merrill said.
The Aggies started the day at No. 43 in the NET rankings, while the Aztecs were at No. 4. … USU will be playing in the NCAA Tournament for the 22nd time in school history and for the 10th time this century and will be appearing in the Big Dance in back-to-back years for the first time since going three straight years from 2009-2011. … The Aggies are 10-6 in conference tournament championship games and 19-4 all-time as the second seed. … USU is now 18-103 all-time against AP ranked teams, including a 2-22 record against top five opponents. The only other win came in 1960 against No. 5 Utah, 73-61. … San Diego State shot 34.4 percent from the field, marking the 20th time this season USU held an opponent to less than 40 percent and are 20-0 in those games.. … The Aggies are now 25-3 this season when outrebounding the opponent as it won the battle on the boards, 37-32. … Sam Merrill scored in double figures for the 25th straight time this year, 31st time this season and 108th time in his career. He moved into second place in career scoring in the MW as he now has 2,197 points, passing San Diego State's Brandon Heath (2,189). … Justin Bean now has 356 rebounds on the season, which is the fifth most in USU history for a season. It was the 24th time this season he has had double figures in boards. … With three blocks, Neemias Queta now has 121 in his career, which ranks fourth on the career list. … After dealing with a balky back for two games, Abel Porter was able to play 26 minutes Saturday and drew praise for running the offense and his defense. … The Aztecs still lead the all-time series with the Aggies, 13-6.
A pair of Aggies and Aztecs were recognized on the all-tournament team.
Utah State guard Sam Merrill and center Neemias Queta were joined by San Diego State guards Malachi Flynn and KJ Feagin. Wyoming guard Kwane Marble III rounded out the five-player team.
Merrill was the tournament MVP for the second straight season. He is the first player in MW history to earn back-to-back MVP honors in the postseason tournament. Merrill is also the first player in school history to win multiple conference tournament MVP honors.
Mr. MVP has become Mr. Game Ball at the tournament this year. For the third straight game Sam Merrill gets this. The senior scored a game-best 27 points on 10 of 22 shooting. He made 6 of 15 from beyond the arc and 1 of 2 from the foul line. Merrill also grabbed six rebounds and came up with a steal. He hit the game-winning shot and played all 40 minutes.
It was the lone dunk of the game, but it was a dandy. Neemias Queta took a pass from Alphonso Anderson and threw it down with 6:36 to play. He was also fouled and made the free throw.
Season count: Queta 24, Trevin Dorius 12, Kuba Karawowski 9, Anderson 9, Justin Bean 8, Diogo Brito 7, Sean Bairstow 4, Roche Grootfaam 3, Brock Miller 2.
The Aggies are going dancing, but now begin the wait to see where they will be sent. Selection Sunday is on March 15.