It came down to the final seconds.
With the Mountain West Men's Basketball Championship title on the line Saturday afternoon in the Thomas & Mack Center on the campus of UNLV, Sam Merrill ran the clock down, then drilled a 3-point shot over one of the best defenders in the league. The shot swished through the net with 2.6 seconds to play to put the Utah State in front.
Now No. 6 San Diego State did get a shot off from midcourt that hit the rim, bounced up and fell away to the delight of the Aggie faithful. For the second straight year, USU is going to the Big Dance after winning the conference tournament, 59-56, in front of 10,292 fans.
"This league has such a rich tradition in men's basketball, and to be able to repeat back to back … that's a difficult, difficult thing to do," Aggie head coach Craig Smith said. "And I couldn't be more proud of these young men."
The Aggies (26-8) didn't want to leave their NCAA Tournament fate in the hands of the committee. So, they punched their ticket by earning the automatic berth.
"I did not want to play in the NIT," said Merrill, who finished with a game-best 27 points and was named the tournament MVP. "I didn't know what was going to happen if we lost. ... We had a sense of urgency all week."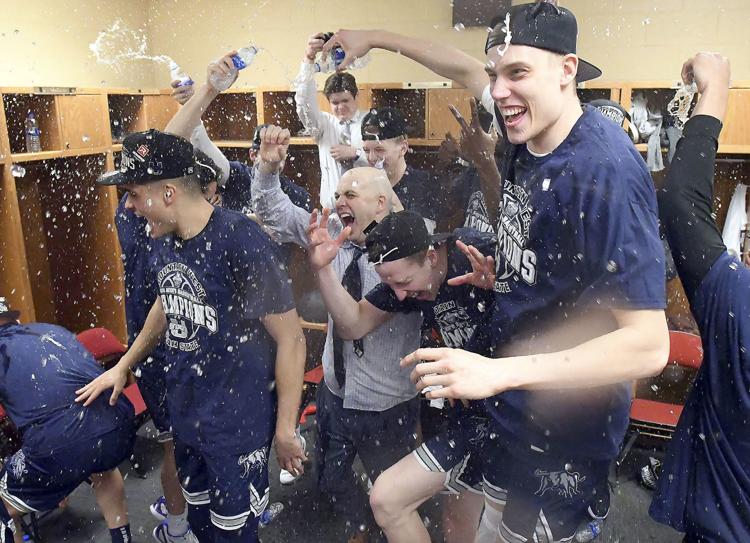 And all week USU fought to stay alive as all three games came down to the wire.
Merrill tied the game with a free throw with 39 seconds to play. The Aztecs (30-2) had the ball, but knew they couldn't hold onto it until the final whistle because of the shot clock.
Reigning MW Player of the Year Malachi Flynn barely missed a 3-pointer from the wing with 25 seconds left that would've given SDSU the lead, Merrill secured the rebound and calmly dribbled up court. With Aztecs guard KJ Feagin playing tight defense, everyone inside the arena knew who would be launching the last-second shot.
With the clock ticking down and Feagin's hand in his face, Merrill left his feet and hit the shot.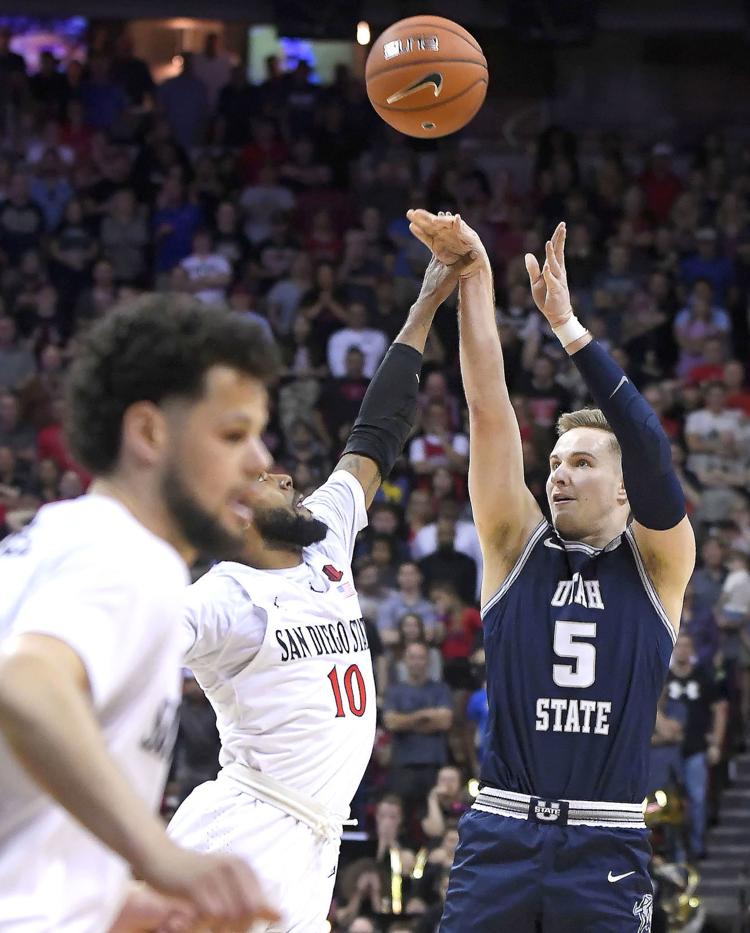 "I was just trying to get a good look," Merrill said. "I barely slept last night, partially because the schedule is rough when you play that late-night game Friday night, and it's a quick turnaround. I only got a few hours of sleep, but I was just hoping that I'd get that opportunity."
Feagin said he did all he could do defensively.
"I felt like up until the release of the shot, I was right there on every move," he said. "But props to him for making a good shot."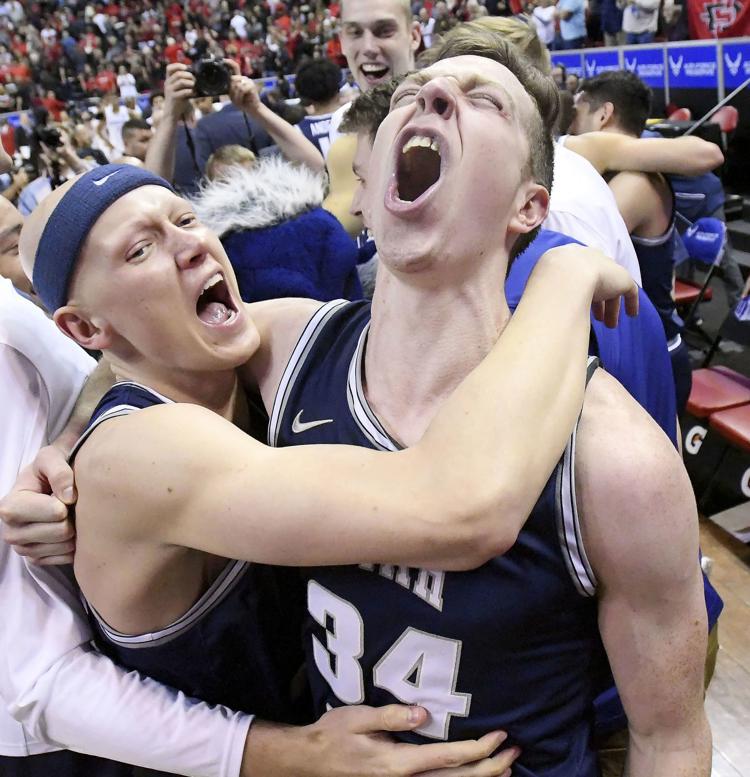 SDSU head coach Brian Dutcher said both teams put the ball in the hands of their best shooter at the end.
"Our best player had a step-back three; he missed it," Dutcher said. "Their best player had a step-back three and made it. Malachi Flynn had a shot; it didn't go in. Sam Merrill had a shot; it went in. So, both coaches put it in their best players' hands. That's March basketball.
"I thought KJ (Feagin) did a great job. Sam is a hard guy to guard."
Merrill was joined in double-figure scoring by Neemias Queta with 15 points, who also had eight rebounds and blocked three shots. Justin Bean grabbed a team-best 12 rebounds and dished out a team-high four assists.
The Aztecs were led by Flynn with 16 points. Yanni Wetzell had a double-double with 12 points and a game-best 13 rebounds. Feagin added 11 points.
After a solid start and building an early 7-2 lead, it was not looking good for the Aggies. They went nearly 13 minutes between field goals. During that timespan USU made just four free throws and found itself behind 27-11 with three minutes left in the opening half.
The Aggies "stayed the course," as Smith put it, and made a crucial run just before halftime. Merrill scored seven straight points, and Diogo Brito drilled a 3-pointer at the buzzer. The Aztecs took a 29-21 lead into the break.
Over a four-and-a-half minute span from the end of the first half and the beginning of the second, the Aggies went from being down 16 to within three points. It was basically a close game the rest of the way.
"The three at the end of the half was kind of big for them," Dutcher said. "It gave them a little momentum and then they got off to a good start in the second half. Then it was pretty much back and forth."
Yes, it was. And Merrill had he final say with his three from NBA range.
"I know that's easy for me to say being on the victorious side, but that was a whale of a basketball game between two highly competitive, very, very talented teams," Smith said. "It felt like one of those games where whoever is going to have the ball last is going to find a way to win, and then they almost throw in a half-courter. It was a heavyweight fight, and we knew it was going to go 15 rounds. Fortunately for us, we were the last man standing."
For the first time since the 2013 and 2014 seasons, there is a repeat winner at the MW tournament.
On Monday, the Aggies received 40 votes in the AP poll to rank No. 31 in the nation, while earning eight votes in the coaches poll to rank No. 32. ... The Aggies were at No. 40 in the NET rankings on Monday, while the Aztecs were at No. 4. … USU will be playing in the NCAA Tournament for the 22nd time in school history and for the 10th time this century, and will be appearing in the Big Dance in back-to-back years for the first time since going three straight years from 2009-2011. … The Aggies are 10-6 in conference tournament championship games and 19-4 all-time as the second seed. … USU is now 18-103 all-time against AP ranked teams, including a 2-22 record against top five opponents. The only other win came in 1960 against No. 5 Utah, 73-61. … SDSU shot 34.4 percent from the field, marking the 20th time this season USU held an opponent to less than 40 percent. The Aggies are 20-0 in those games.. … The Aggies are now 25-3 this season when outrebounding the opponent as it won the battle on the boards, 37-32. ... Merrill scored in double figures for the 25th straight time this year, 31st time this season and 108th time in his career. He moved into second place in career scoring in the MW as he now has 2,197 points, passing SDSU's Brandon Heath (2,189). … Bean now has 356 rebounds on the season, which is the fifth most in USU history for a season. It was the 24th time this season he has had double figures in boards. … With three blocks, Queta now has 121 in his career, which ranks fourth on the career list. … After dealing with a balky back for two games, Abel Porter was able to play 26 minutes Saturday and drew praise for running the offense and his defense. ... Guard Sean Bairstow injured an elbow in the first half and saw just 41 seconds of action. His status going forward has not been released. … The Aztecs still lead the all-time series with the Aggies, 13-6.
The Aggies will learn their seed, opponent and regional site Sunday afternoon. USU will host a NCAA Selection Show watch party on Sunday inside the Wayne Estes Center, with doors opening at 3:30 p.m.
USU will begin taking ticket reservations for the upcoming NCAA Tournament on Tuesday at 10 a.m., with a deadline of noon on Friday. Fans will then be notified Sunday evening if their ticket request has been fulfilled. Orders will be taken in-person at the Dee Glen Smith Spectrum Ticket Office, over the phone by calling 1-888-USTATE-1, or online at UtahStateAggies.com.
Due to a limited number of tickets made available by the NCAA to participating schools, USU can't guarantee your request. Up to four tickets will be allocated to each customer. All requests will be based off of Aggies Unlimited priority points, with available tickets costing $100 and a limit of four tickets per account.
Anyone who does not qualify or is unsuccessful in purchasing tickets through USU can still try to secure tickets via the NCAA and Ticketmaster.
A pair of Aggies and Aztecs were recognized on the all-tournament team.
Merrill and Queta were joined by SDSU's Flynn and Feagin. Wyoming guard Kwane Marble III rounded out the five-player team.
Merrill was the tournament MVP for the second straight season. He is the first player in MW history to earn back-to-back MVP honors in the postseason tournament. Merrill is also the first player in school history to win multiple conference tournament MVP honors.
Mr. MVP has become Mr. Game Ball at the tournament this year. For the third straight game, Merrill gets this. The senior scored a game-best 27 points on 10 of 22 shooting. He made 6 of 15 shots from beyond the arc and 1 of 2 from the foul line. Merrill also grabbed six rebounds and came up with a steal. He hit the game-winning shot and played all 40 minutes.
It was the lone dunk of the game, but it was a dandy. Queta took a pass from Alphonso Anderson and threw it down with 6:36 to play. He was also fouled and made the free throw. Queta should have had another dunk, but was called out of bounds as he took a pass and spun toward the basket for a slam. Pictures show he did not step out of bounds.
Season count: Queta 24, Trevin Dorius 12, Kuba Karawowski 9, Anderson 9, Bean 8, Brito 7, Bairstow 4, Roche Grootfaam 3, Brock Miller 2.
The Aggies are going dancing, but now begin the wait to Sunday to see where they will be sent.