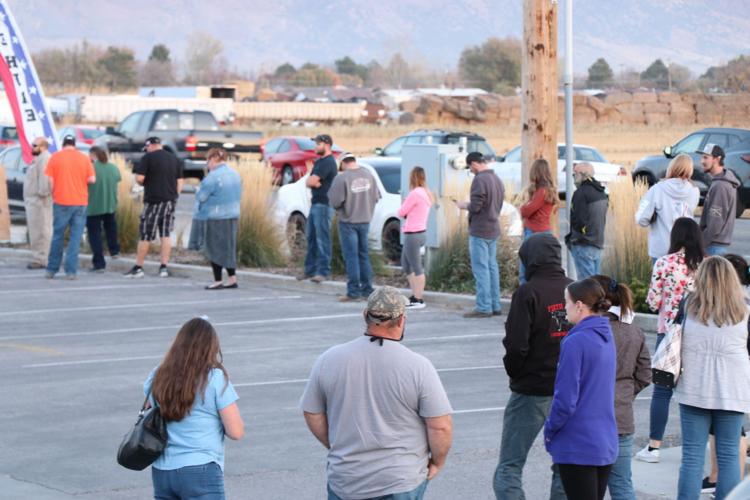 While the outcome of the 2020 presidential race was still being figured out well beyond Election Day, the will of Box Elder County voters was crystal clear.
In an election featuring few contested local races, voters in the county turned out in record-high numbers to support their choice for the next president of the United States, governor of Utah, two seats in the Utah Legislature, and a new face representing their district in the U.S. House of Representatives for the first time in 18 years.
Early and late on Election Day, long lines formed outside the Bear River Valley Senior Center, which served as one of two in-person voting locations in the county on Tuesday, Nov. 3.
It wasn't quite as busy during the day, but still saw a steady stream of voters coming through the door.
Box Elder County Clerk Marla Young said the county hired extra poll workers to staff in-person locations on Election Day and for early voting days the week before. While the day came and went without any major incident, she thanked the Box Elder County Sheriff's Office for standing by to handle any problems that might arise.
"Everything seemed to go smooth last night," BESO Chief Deputy Dale Ward said on Nov. 4, the day after Election Day. "We had a few little issues, but no major problems."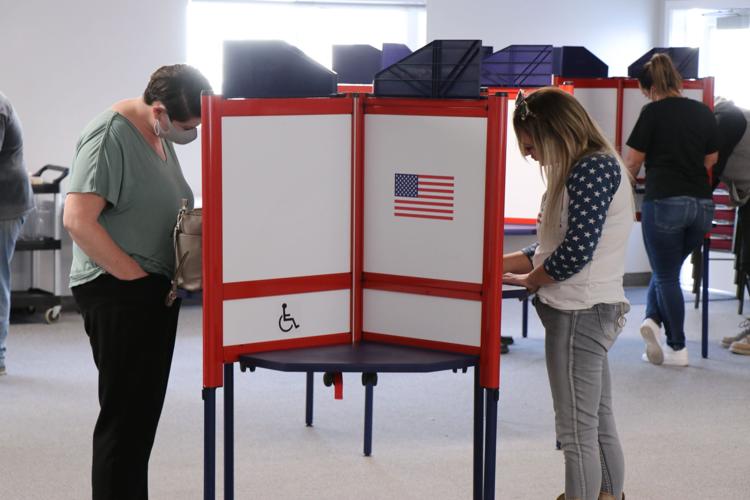 After the last absentee and early-vote ballots were counted last Friday, the numbers revealed that turnout did indeed reach a record high. 26,362 ballots were cast countywide, representing slightly more than 88% of all registered voters.
In the presidential race, incumbent Republican President Donald Trump was the overwhelming favorite in the county, gaining 78.4% of the vote, compared with 16.2% for Democratic challenger Joe Biden.
The result was largely expected in Box Elder County, part of Utah's 1st Congressional District, which was the most reliably Republican voting district west of the Rockies in the 2016 presidential election. The party had a 26-point advantage across the district that year, according to the nonpartisan Cook Political Voting Index. That margin put it slightly ahead of Utah's 3rd District (plus-25), which includes the southern portion of the Wasatch Front and most of southeastern Utah; and Wyoming's single, statewide district (plus-25) in terms of Republican support.
Box Elder County voters last week also gave a big boost to Spencer Cox, who won the Utah Governor's office with 64.4% of the statewide vote and 75.2% of the Box Elder County vote.
In other races, newcomer Blake Moore won the U.S. House seat left open by the retirement of Rep. Rob Bishop, who has held the seat since 2003. Moore defeated Democratic challenger Darren Parry with 69.5% of the district-wide vote and was an even more popular choice in Box Elder County, where he received 75.8% of all ballots cast.
State Rep. Lee Perry's decision not to run for reelection in Utah House District 29 after serving there for 10 years created an open seat in the Utah House of Representatives. Republican Matt Gwynn easily took that race with 78.6% of the vote.
Joel Ferry, also on the Republican ticket, won a second term representing Utah House District 1. Ferry garnered 79.4% in a landslide victory over Democrat Amber Hardy (13.2%) and Constitution Party candidate Sherry Phipps (7.4%).
All four of the county-level races on this year's ballot featured incumbent Republicans running unopposed, including Commissioner Stan Summers, Assessor Rodney Bennett, Recorder Chad Montgomery and Treasurer Shaun Thornley.
In races for the Box Elder School District Board of Education, Tremonton board members Tiffani Summers and Connie Archibald ran unopposed. The only contested school board race was between incumbent Nancy Kennedy and challenger Todd Cordner, with Kennedy receiving 50.4% of votes to Cordner's 41%.